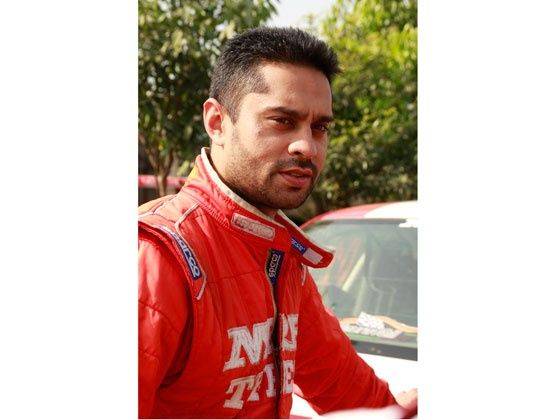 ZW: How do you rate the 2012 APRC season?
Gaurav: The 2012 season was special for numerous reasons. Firstly, it has been almost a decade since we have had such brilliant drivers taking part, including the top 4-5 drivers from the World Rallying Championship (WRC) who took part in a number of the rallies throughout the season. For me, that was great because I got to compete against the best and in many ways it was an opportunity to measure just where I stand as a driver. Secondly, I had Chris Atkinson as my partner and finally I was driving a new car, the Skoda Super 2000. All this made for a very exciting season.
ZW: What was it like to have Chris Atkinson as your partner?
Gaurav: As you know, Chris is a WRC driver who has driven for The Subaru World Rally Team as well Team Mini Portugal. He's a strong teammate to have and there is an immense amount of knowledge that one can gain from such a seasoned driver. I would say that it was the best thing to happen to me at this juncture in my career. He was helpful, gave me a lot of insight and as a result I am sure that my driving improved.
ZW: For 2012 you also had a new car. Can you elaborate about that?
Gaurav: It was time to come out of the Mitsubishi Evo X and get behind the wheel of the Skoda Fabia S2000, having said that, it was a tough year as well. The Skoda is just so different in terms of its mannerisms that in many ways was like going back to the drawing board in understanding a rally car. Firstly it was left hand drive. In fact it only comes in left hand drive and that was a major change. Secondly it wasn't like the Evo X in terms of power delivery. The Skoda was all about keeping it in its boost range around 10000rpm! It is a highly technical car and felt like a go cart to drive on gravel.
ZW: Did you get enough time to practice with the new car, or was it the deep end of the pool for you?
Gaurav: Unlike other races where you have 14-15 rounds, the APRC is a short season so there isn't much time to practice. I was in for a tough time and I had to mentally prepare myself accordingly. I kept telling myself that it's either go flat out or go home. After all, the team doesn't have a very long leash on offering a driver a learning curve. You either have it or you don't. I guess my strategy worked and I constantly managed to clock some of the fastest stage times during the season.
ZW: Would you say the year went well or was it a mixed bag of emotions?
Gaurav: As I've said earlier, this year was an interesting year and I have had my fair share of ups and downs. It has been a challenging year and I am very happy with my driving. I feel that I have improved a lot over this year and while I would have liked more wins, I know that I can definitely match the pace of the best in the business. I don't blame my car or my team, in fact I have a great team, but we did suffer on account of some bad luck. There have been times that I have been leading the rally but a fault somewhere has resulted in a major setback. A case in point being Japan where I was coming first, leading by an entire minute, but at a red light on the way to the stage my clutch got stuck and I couldn't move which ended that rally for me. Honestly, I feel that I could have won at least 5 rallies in the 2012 APRC if it wasn't for car trouble.
ZW: Going forward. What's next for you? Where do we see you in 2013-2014?
Gaurav: I have a number of things that I am currently working on. Of course my ambition to rally at the WRC level remains and I am looking for sponsors on that front. I also will continue to drive for Mahindra Adventure in the specially prepped XUV500 for the domestic rallies, including the upcoming Desert Storm Rally, and we've been doing well on that front so looking forward to some more podium finishes there.