International Motorsport Roundup: Two F1 Car Launch Dates, Laureus Nominations, Dakar Climax And More
---
The mid-way point of January 2020 sees more reveals and the climax of a gruelling rally event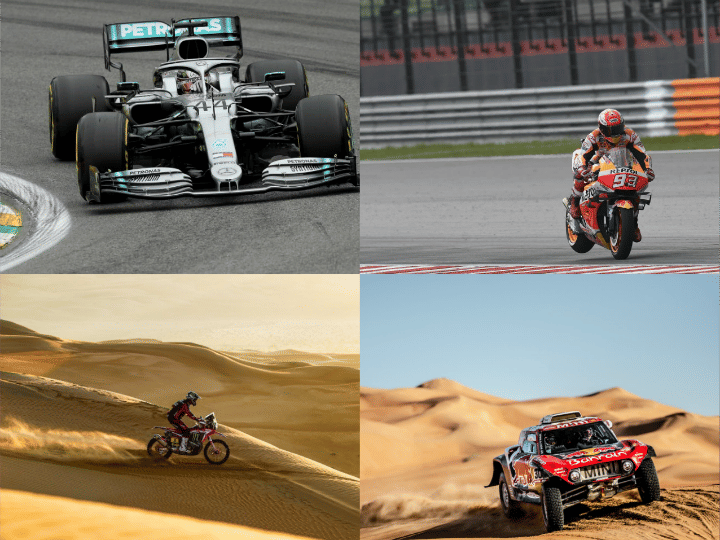 As we head into the latter half of January, more details on the 2020 season have been revealed from the world of motorsports, alongside the conclusion of a major event. It started off with two Formula One teams confirming their 2020 car launch dates, as well as the end of a major marketing partnership. In the world of MotoGP, the laurels keep on coming for 2019 world champion Marc Marquez. This week we also see the conclusion of the prestigious 2020 Dakar Rally that started way back in January 5. Here's everything that happened this week:
Dakar 2020

In the world of off-road motorsports, the Dakar Rally concluded after 12 stages and 7,500km with many triumphs and some serious losses as well. In the end, Carlos Sainz took his third Dakar title win representing X-Raid Mini in the Cars category. He finished over 6 minutes ahead of reigning champion Nasser Al-Attiyah in the Toyota, with Stephane Peterhansel rounding off the podium. This result means that Carlos Sainz has won the Dakar with three different manufacturers. The other two triumphs were with Volkswgagen (2010) and Peugeot (2018). This is also X-Raid Mini's first Dakar win since 2015.

In the Bikes category, Ricky Brabec took the overall title and the first Honda Dakar triumph since 1989. This also ends KTM's consecutive streak of 18 Dakar wins. The American rider finished over 16 minutes ahead of Husqvarna's Pablo Quintanilla, with KTM rider and reigning Dakar champion Toby Price finishing 3rd overall. In the Truck category, the Kamaz team took its fourth consecutive overall title with Andrey Karginov winning ahead of teammate Anton Shibalov and Maz's Siarhei Viazovich.
Formula One

The third week of January has seen plenty of revelations for the upcoming 2020 season. Kicking things off is McLaren revealing a 13 February launch date for its 2020 challenger, codenamed MCL35. The reigning world champions, Mercedes have also revealed that their 2020 challenger, the W11 will be launched on Valentine's Day, February 14. However, the Mercedes launch will be a private affair.

Aside from that, we also see the end of a long partnership as Tata Communications has ended its marketing partnership with Formula One. The partnership spanned 8 years and 150+ races. However, they're not entirely out of Formula One, as they are still working with teams like Williams and Mercedes. This week was also another piece of the puzzle in place for Ferrari's future, as they've signed up Charles Leclerc's younger brother, Arthur Leclerc, to its young driver program. The 18-year old will be racing in the Formula Regional European Championship for Prema.
MotoGP

In the world of top-class two-wheeler motorsports, 2019 world champion Marc Marquez keeps reaping the rewards of his 2019 title-winning campaign, as he has been nominated for the Laureus Sportsman Of The Year award. He joins Lewis Hamilton, Tiger Woods, Rafael Nadal, Lionel Messi and Eilud Kipchoge in the nominations.
WRC

The 2020 World Rally Championship is almost upon us, with the season opening Monte Carlo Rally. set to commence in less than 5 days. It will see a variety of returns in the form of Safari Rally, Rally Japan and Rally New Zealand. Could Hyundai defend its maiden title? Only 5 more days to find out.
Add Your Comments