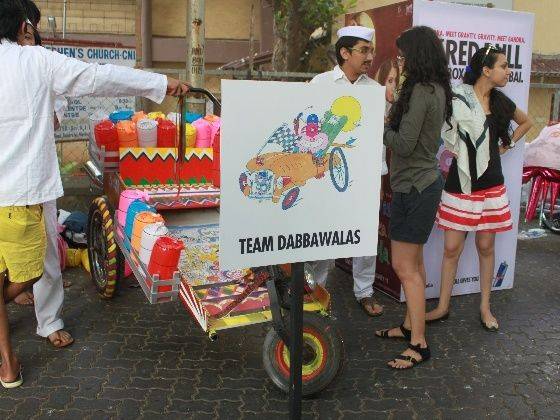 Mumbaikars got a shot of adrenaline on a lazy Sunday afternoon, when they witnessed vada pavs, pizza slices, snails, and pirate ships race down the road at Mount Mary Road, Bandra at India's first Red Bull Soapbox Race. Nearly 10,000 people came out to Bandra's iconic street to cheer the craziest 'road race' the nation has ever seen! The quirky race even caught the attention of Bollywood actor Imran Khan and director Vishal Bhardwaj who flagged off the race, riding a 'Gulabo' soapbox as a homage to their upcoming film, Matru Ki Bijli Ka Mandola.


After a day full of song, dance, creativity and bumpy rides, Dabbawallas, Team Tritech and Feni Talks bagged the first, second and third places respectively. Dabbawallas from Mumbai blew away the judges with their colourful soapbox ferrying the quintessential food dabbas. Team Tritech and Feni Talks left the crowds roaring, riding in their radio controlled car-inspired soapbox and tricycle shaped feni bottle respectively. The teams were awarded the much coveted prizes by Honorable M.P. Priya Dutt and local MLA Baba Siddiqui.


Your very own ZigWheels team were also part of the event as the 'Maharajas of Zigpur' in their 'ZigRath'. The event being a first of its kind was extremely well received with everyone looking forward to the next one.