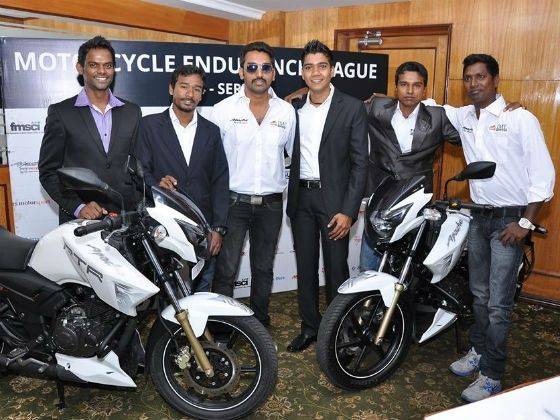 Its glad tidings for budding motorcycle riders as the Indian Motorcycle League (IML), a new concept of racing series that is similar to the IPL format was launched in Chennai on January 10. The event was inaugurated in the presence of renowned riders K.Rajini, Sarath Kumar, K.Jagan and Harry Sylvester along with the IML Chairman, Rasheed Khan. The IML will act as a platform for aspiring riders to showcase their riding skills in endurance racing consisting of three rounds. The inaugural round will be held in February in Coimbatore, while the following round will be hosted in Chennai and, the grand finale will be held at the Buddh International Circuit. The IML series has been approved by FMSCI and will be supported by TVS Racing, who have been in the racing circuit for the past 28 years and will be providing the Apache RTR180.
Speaking at the launch, Rasheed Khan, Chairman IML said, "We have many talented young riders in India, but unfortunately the opportunities for them to perform are very limited. Keeping this in mind, IML has drawn up a plan to provide an opportunity to all the potential riders in India. In its unique structure, IML Class is similar to IPL format where 40 riders from eight cities will be selected under the Franchise Team across the country to take part in the Endurance Racing Format. IML will be providing all the necessary riding equipment and the bikes to each of the Franchise Team. Each team will also be provided its own and dedicated coach to train riders. Very simply put, all that the riders have to do is to come to the track and IML will make sure that everything is arranged for them to take part in the race, that they are, 'Ready to Race".
According to the organizers .their main motive with the IML is to groom up-coming riders and help them in developing their riding skills for both domestic and international racing circuits. Though, IML features only Indian riders in its debut year. But it has plans to rake in Asian riders for next year and hopes other international riders will participate in its series in the near future so that Indian riders get an opportunity to test their mettle against riders from across the globe.