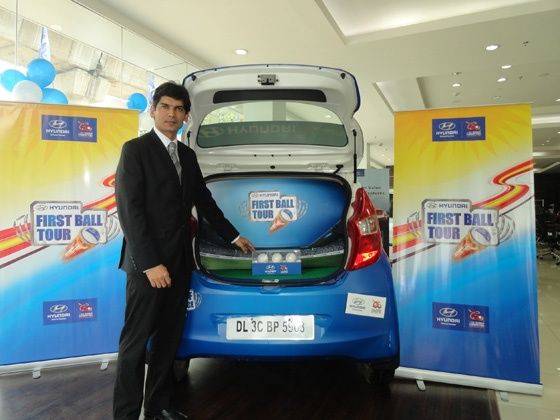 After kick starting its 2012 ICC World Twenty20 campaign earlier this year with the introduction of its nationwide 'Trophy Tour' event, Hyundai now continues to salvage its commitment towards the shorter format of the game through its 'First Ball' showcase.
Holding exclusive rights to showcase a set of Cricket Balls which will be used in the first match of the ICC World Twenty20 on September 18th representatives from Hyundai will hand over the set of cricket balls to the match umpire, an hour prior to the opening match between Sri Lanka and Zimbabwe. The umpires will choose and decide which cricket ball will be used in the match.
Speaking about the unique promotional campaign at the eve of the T20 World Cup in 2012, B S Seo, MD & CEO, HMIL, said, "The ICC World Twenty20, 2012 is a great opportunity for us to combine a nation's passion with Hyundai's commitment to the sport. We are delighted to be associated with ICC as official partner till 2015."
For Hyundai customers, the first cricket ball was shuttled around in a specially branded Eon that was showcased in 6 cities - New Delhi, Mumbai, Chennai, Hyderabad, Ahmedabad and Lucknow.
To add to the excitement among the cricket fans, special activities were organized at the dealership locations, which included games and quizzes on cricket trivia, contests on juggling balls, and a special graffiti wall where fans were able to pen their thoughts and cheer for their favourite teams and players. The preview was organised at select Hyundai dealerships from September 6- 9, 2012.