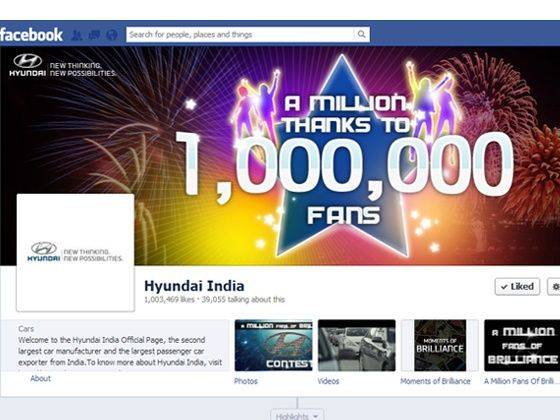 Besides a means of keeping contact with friends and family, social media today is a platform for even auto companies to derive mileage from.
Hyundai India is a car maker whose Facebook page has now crossed the million fans mark. Its Facebook page is rather well managed with puzzles and interactive methods to engage fans.
Hyundai India has launched a 'A Million Fans of Brilliance' campaign to allows its customers to join in the celebrations. A link on the contest post directs the user to a microsite where fan photos are incorporated into a collage of the Hyundai logo. "The idea is to demonstrate the important role played by each fan in assisting us in growing our fan base, and that they truly are 'One in a Million'," said Nalin Kapoor, Senior GM & Group Head Marketing.
"We understand that the social media plays an important role in engaging with our customers in the most interactive way on the digital platforms. Crossing the 1 million fans mark on Facebook is an acknowledgement from our customers appreciating our brand and products," he added.
Also read: Hyundai's Moments of Brilliance campaign kicks off