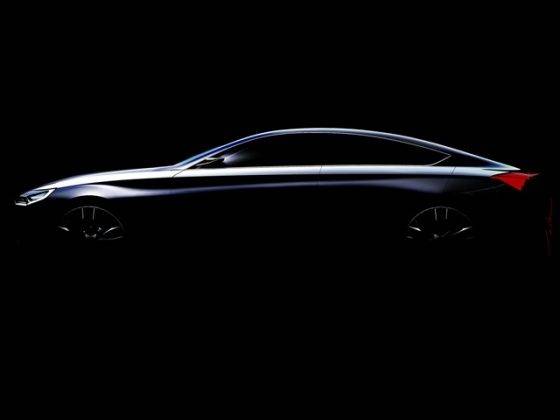 Hyundai has released a teaser image of the HCD-14 concept, which the Korean car maker will showcase at the 2013 Detroit Auto Show. Hyundai said the HCD-14 concept is a glimpse into the future of the company's premium vehicle design.
The HCD-14 concept has a similar silhouette as the next-generation Hyundai Genesis. Judging by the image's looks, the Hyundai HCD-14 appears to be a sleek, four-door coupe combining both premium appeal and practicality.
Hyundai has significantly upped the quality of interiors in all its vehicles and the HCD-14 shouldn't well be another beneficiary. Like most modern Hyundais, expect the HCD-17 to be packed with features. The car will also debut an interesting 3D gesture-based technology control system, details of which will emerge after the car's unveiling.
Hyundai says the HCD-14 will possess spirited drive dynamics, which probably implies that it would ride on an updated version of the company's rear-wheel drive architecture.
We'll have more details of the HCD-14 concept when the car is unveiled next week but the teaser image does hold out a promise of a vehicle that has the potential to give competition a run for their money.
Also read: Chevrolet Corvette C7 to make Detroit debut