Huracan Performante - The Quickest Lamborghini Launched at Rs 3.97 Crore
---
The Huracan Performante is the fastest Lamborghini around the Nürburgring Nordschleife and is now available in India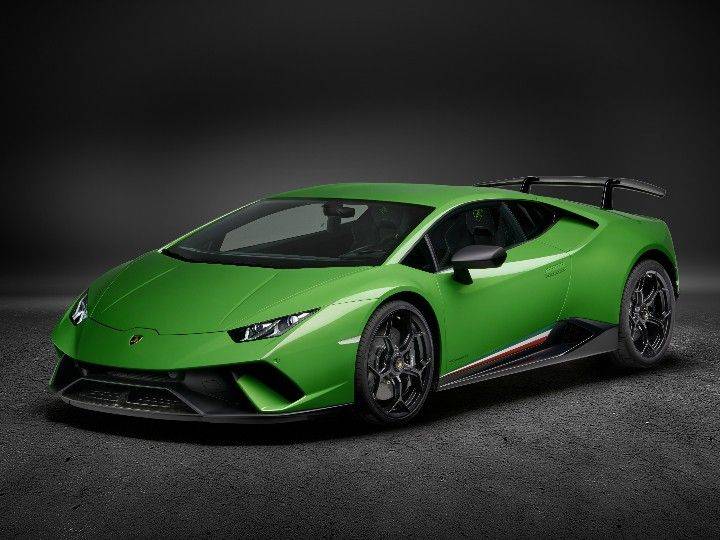 The latest edition in the Lamborghini family, the Huracan Performante, has been launched in the country at a price of Rs 3.97 crore (ex-showroom, Delhi). Every car has a defining charismatic and for the Lamborghini Huracan Performante, it is "6:52.01". These digits correspond to the time it took to demolish the claims of other cars like the Porsche 918 Spyder and the Aventador SV of being fast around the Nürburgring Nordschleife. It is the 6th Huracan model to be launched in India after the all-wheel drive (coupe and spyder), rear wheel drive (coupe and spyder) and the Avio.

Powering the Lamborghini Huracan is the same 5.2-litre V10 but with a power boost. The engine now belts out 639PS of maximum power and 600Nm of peak torque, which is 29PS and 40Nm over the all-wheel drive coupe. This power is directed towards the tarmac with the help of a seven-speed dual-clutch transmission and an intelligent AWD system.

With the new power output and other design elements (to which we will get to later), the Lamborghini Huracan Performante shoots from 0-100kmph in 2.9 seconds, which is faster by 0.3 seconds than the Huracan LP 610-4 Coupe, and gets to the 200kmph mark from standstill in 8.9 seconds (quicker by a whole 1 second). The top speed of the Performante, as Lamborghini claims it, is 'more than' 325kmph.

To achieve this insane lap time, just the bump up in power was not enough. It had to become lighter and more agile to be able to corner faster. For this, the Huracan went on a diet by using lightweight forged composite for the front and rear spoiler, bonnet, rear bumper and diffuser along with titanium for the all-new exhaust system. As a result, the car was able to loose 40kg. The lab coats at Lamborghini also gave the Performante the Active Aerodynamics package, which can also be called the Aerodinamica Lamborghini Attiva or ALA (ALA also being the Italian word for wing). It gets the car a new front spoiler, active flaps on the top exterior surface, a redesigned rear bonnet, wing and new air ducts. What this does is give the car loads of downforce while reducing drag, resulting in the car being able to go around a corner much faster.

The double wishbone suspension from the all-wheel drive coupe has been stiffened for better road and track performance on the Performante and there is also an optional 'magnetorheological' adjustable suspension which makes the handling even better.
The Lamborghini Huracan Performante is the first Huracan with the "Performante" badge. It is not only a supercar but also a statement from the Italian that they are in no way behind the competition.