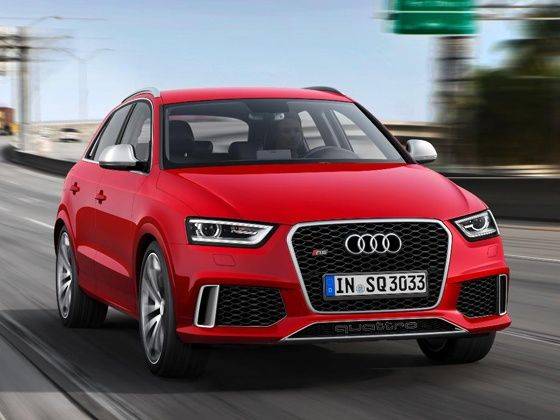 Audi will be showcasing its all new performance variant of the Q3 compact luxury SUV at the upcoming 2013 Geneva Motor Show. At the heart of the new Audi RS Q3 is the company's award winning five cylinder 2.5 litre TFSI petrol engine which with its 1-2-4-5-3 firing sequence produces that five-cylinder soundtrack of the quattros from the 1980s.
The engine in this case develops 310PS of power and 420Nm of torque and can power the Audi RS Q3 compact performance luxury SUV from 0-100 km/h in 5.5 seconds and onwards to an electronically limited top speed of 248 km/h.
In keeping with the times, the high performance direct injection turbocharged engine also comes fitted with a start/stop system along with a regulated oil pump that only supplies lubricant when needed for greater fuel efficiency.
The RS Q3 performance SUV is armed with Audi's drive select adaptive dynamics that provides three driving modes, namely, auto, comfort and dynamic the last mode as stated sharpens throttle responses and opens flaps in the exhaust system for louder and more intense exhaust notes to contribute to the go faster experience.
As per Audi's 'RS' tradition the RS Q3 is equipped with the company's hallmark quattro four-wheel drive system with an electronic multi-plate clutch positioned on the rear axle for appropriate distribution of torque between the front and rear wheels when the going gets tricky. The Audi RS Q3 also comes fitted with adjustable stability control that can step in to prevent the vehicle from skidding, the 'Sport' mode allows a little bit of skid for enthusiastic driving. The system can also be turned off altogether.
The performance SUV's RS specific sports suspension lowers the RS Q3's ride height by 25mm over that of the standard Q3 for lesser body roll but not at the cost of ride comfort, states Audi. When it comes to handling, the Audi RS Q3's elctromechanical rack and pinion steering provides quick and accurate turn-ins.
Stopping power comes from perforated 365mm front discs that have a wave design with wave-shaped outer contours, that shaves off approximately one kg of weight at the front wheels. The discs are gripped by eight-piston calipers painted black with RS logos.
Ofcourse, Audi has worked as hard on cosmetically enhancing the RS Q3 as much as it has worked on its performance enhancement. As a result, the Audi RS Q3's RS-specific body detailing that includes a high-gloss black honeycomb front grille, RS bumpers, a quattro emblem in the air intake, roof rails, a rear spoiler, a distinctive rear diffuser and large elliptical tailpipes.
Inside, black headlining is standard, with lunar silver headlining available as an option, in contrast the pedals and foot support are finished in bright aluminium. The standard inlays are piano black, but aluminium race or carbon inlays designed by quattro GmbH are available also as options. Contrasting stitching in rock grey trims the three-spoke multifunction steering wheel and gear selector. The MMI and driver information system displays welcome the driver with the RS logo. Drivers can also call up the boost pressure, oil temperature and a lap timer via the RS menu in the driver information system. The instrument cluster has grey gauges with white scales and red needles to denote the vehicle's sporty appeal in a clear manner.
The infotainment system features a modular component system that offers a wide range of options and including internet connectivity with Audi connect along with a hard drive based satellite navigation system. There is also a 465 watt Bose stereo available as an optional extra.
Expected to go on sale in summer of 2013 in the UK, the new Audi RS Q3 will be available in eight shades including a new Sepang Blue pearl effect shade.
Also read: Audi Q3 : First Drive