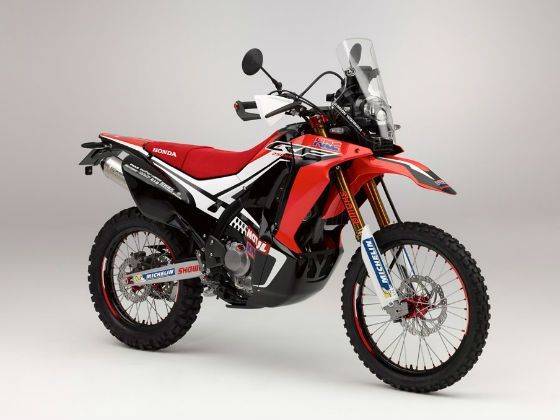 The CRF250 Rally - to be unveiled at both the Osaka Motorcycle Show and the Tokyo Motorcycle Show later this month - is effectively just a rebodied version of the popular CRF250L dual sport bike.
But the design on this adventure concept is clearly inspired from Honda's own CRF450 Rally bike, the one raced in the Dakar Rally by Joan Barreda Bort, Paolo Goncalves and Laia Sanz.
The CRF250 Rally will be powered by the same single cylinder, four-stroke, liquid-cooled 250cc engine of the CRF250L which makes about 23PS of power at 8500rpm and maximum torque of 22Nm at 7000rpm. And from most accounts, the engine delivers an average of about 32kmpl – decent enough for the average long distance adventure rider. And at 145kg wet, the CRF250L is relatively light than most adventure bikes.
Honda has not revealed any further specifications on the CRF250 Rally concept yet, but from the pictures we can see the new fully-enclosed bodywork and tall windscreen with headlight protector, full wraparound hand guards and a sump protector gives the bike off-road prowess. A large rally-style instrument panel features a GPS navigation unit with integrated handlebar mounted controls. With the added bodywork and accessories, the CRF250 Rally could add a few more kilos than the CRF250L's 145kg weight, but it will still be a lightweight machine by adventure bike standards.
So, what makes it special? For starters, it's lightweight, with smooth throttle response and plenty of low and mid range torque and true adventure credentials. And that has generated considerable excitement amongst the global adventure motorcycle community.
Unlike large displacement tourers pegged as Adventure series by most global manufacturers, the adventure riding community seems to prefer lighter bikes. Experienced riders who have travelled across the globe through harsh African terrain and through the deserts of Central Asia through inhospitable terrain of the Siberian wilderness say a lightweight motorcycle is more suitable for such kind of travel.
Maybe, a consumer version of the CRF450 Rally would be more welcome, since it would pack some more punch, which is more than welcome on a long adventure ride. For the moment, the CRF250 Rally remains a concept, but if Honda puts this 250cc Adventure concept to production, there will be quite a few takers, and for some of us here, it does seem like the perfect bike to tackle the harsh high altitude terrain on the annual ride to the Himalayas.