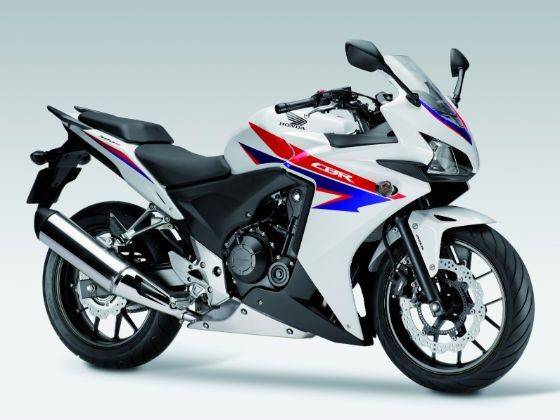 Honda unveiled its CBR400 range for the Japanese market before its official launch at the Osaka Motor Show which will begin on Friday, March 15, 2013. Honda had earlier revealed its 400cc parallel twin engine in January (Related: Honda Unveils new 400cc engine) and has been very swift in launching the bike with the new engine. Visually the bike resembles the CBR500 range and will be similarly launched in three variants like the CBR400R, CBR400F and CBR400X. By rolling out the bike in various versions like full-faired, naked and tourer, Honda aims to satisfy the various demands of different bikers. Apart from visual resemblance, the bike shares lot of parts and features with its elder sibling. Because of this platform sharing it is expected that Honda will be able to price the bike competitively.
Powering the CBR400 range is the same mill as on the CBR500 range, the only difference being the engine capacity which has been shaved down from 470cc to 400cc. The engine is expected to produce around 40PS of power and an approximate torque figure of 35-38Nm. Though these figures are slightly lower than what the 500cc mill produces, it is expected that the 400cc mill will deliver better efficiency figures. The 400cc engine is visually similar to its 500cc sibling and shares the clutch, generator covers and 67mm bore though stroke is shorter at 56.6mm. The motor has been specially developed for JDM and Southeast Asian markets where 400cc is an important tier to adapt the various licensing regulations.
Earlier it was speculated that the CBR500 range of bikes will be heading our way but with this development it is expected that Honda may bring the CBR400 range of bikes to the country by year end. If Honda does launch the CBR400 range and price it around the Rs 3 lakh price bracket, it can give stiff competition to the highly anticipated KTM 390 Duke, Kawasaki Ninja 300 and the rumoured Yamaha 400cc bike. So for all the bikers looking for an affordable performance bike it's time to save up and rejoice!