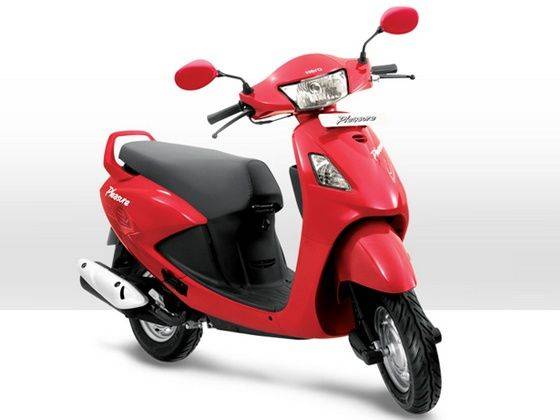 What is common between Erode in Tamil Nadu, Hubli in Karnataka, Rewari in Haryana, Raipur in Chhatishgarh, Rajkot in Gujarat and Indore in Madhya Pradesh? Small town India, what we call Bharat? Yes, but the similarities don't end there.
All these towns today boast of swanky showrooms managed exclusively by women, selling scooters. And they are also soon going to be joined by still smaller towns such as Angul, Balasore and Jajpur Road in Odisha, Midnapore and Siliguri in West Bengal and Alleppy in Kerala. Why should boys have all the fun?
Indeed, welcome to the changing demographics in India's non-descript hinterland. Aptly called "Just4her", these women-exclusive showrooms are driving large volumes for Hero MotoCorp's scooter Pleasure - which itself is specifically designed for and targeted at women customers.
The Just4her dealerships are completely managed by women staff, and the showroom itself is designed like a boutique studio rather than a two-wheeler outlet. With its aesthetically-designed interiors, comfortable air-conditioned waiting lounges, and internet connectivity for customers, the showroom exudes warmth and friendliness.
"We currently have around 30 Just4her showrooms spread across the country and we plan to take these up to 50 outlets in about a year's time. When we launched Pleasure a few years back, our initial target was to sell 5000 units a month. Today we sell more than 30,000 units of Pleasure on an average per month," Anil Dua, Sr. VP (Marketing & Sales) at Hero Moto-Corp told ET.
Pleasure is also sold from other Hero dealerships as well. In the first phase, the company had opened around 20 Just4her outlets in cities such as Lucknow, Ahmedabad, Baroda, Rajkot, Nagpur, Naisk, Pune, Kolhapur, Erode and Coimbatore.
In the second phase of expansion, Hero opened these outlets in cities such as Bhubaneswar, Jamshedpur, Guwahati, Raipur, Jaipur, Vishakhapatnm, Hubli, Madgaon and Indore. The company has already appointed new dealers for Just4her showrooms in places such as Rewari, Ranchi, Balasore, Rourkela, Angul, Midnapore, Siliguri, Patna, Chennai, Hyderabad and Mysore.
Also read: Hero Maestro : Road Test