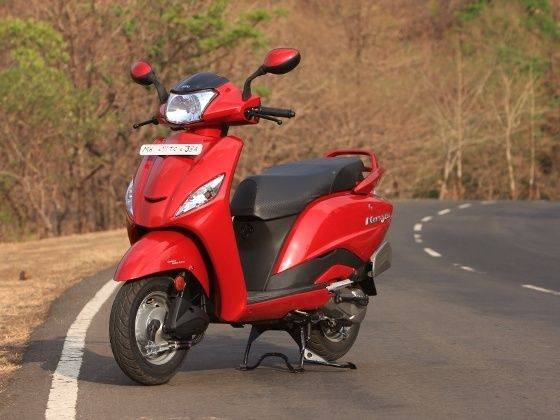 Weak demand conditions have prompted the world's largest two-wheeler maker Hero MotoCorp to decide to lower production by 15-18 per cent in September over the first five months of fiscal 2013. The flagship model Splendor faces the biggest slash.
A September 2012 production plan sent to vendors indicates that the two-wheeler maker will produce a total of 4.48 lakh units against the production average of 5.25 lakh units in the first five months of the financial year. Wholesale average despatches to dealers of the Splendor, of 2.2 lakh to 2.4 lakh units since April, dropped to 1.73 lakh units in August 2012. According to the production plan, Hero MotoCorp plans to produce a little over 1.20 lakh units of the Splendor this month.
"We have seen a slowdown in retail sales for the two-wheeler industry in July and August and it is expected to continue in September; so we are correcting production in order to avoid an inventory pile-up, which has been happening over the last few months. We have inventory stuck at our plants and with our dealers," said Pawan Munjal, MD & CEO, Hero MotoCorp.
Munjal, however, did not want to delve into production cuts for specific models. He is hopeful of the industry bouncing back in the festive season for which Hero Moto has lined up new launches like the Passion Xpro. Munjal added that the company will continue to launch 8 to 10 new products and variants every year to build volumes. "We will ensure that there is sufficient stock available at the dealerships to leverage the high retail opportunity that comes with the festive season. All our brands are in good health, and we have a robust communication plan leading up to the festive season," the MD pointed out.
For their part, the No 2 and No 3 players in the two-wheeler market, Bajaj Auto and Honda Motorcycle & Scooter India (HMSI), are showing few signs of cutting back. According to a senior official aware of the marketing plan at Bajaj Auto, new launches like the Discover ST and Pulsar 200NS are helping the Pune-headquartered two-wheeler maker maintain a production plan of 3.2 lakh bikes this month - a target that was arrived at the start of the fiscal year. An equity analyst covering HSMI says production is up by 10-12 per cent, largely because of the launch of the Dream Yuga in June.
Hero has been feeling the heat in the first five months of the year with growth of just 1.8 per cent year on year. In fiscal 2012, domestic sales were up by 15 per cent over a year ago.
"It will take six to eight months (for Hero Moto) to come out of this downward phase. The new models - the Maestro scooter and the Ignitor 125 cc bike -- have started on a good note, but offtake is yet not fast enough for sales to recover," said Mahantesh Sabarad, an equity analyst at Fortune Financials.
Also read: Hero MotoCorp inks deal with European design and tech firm