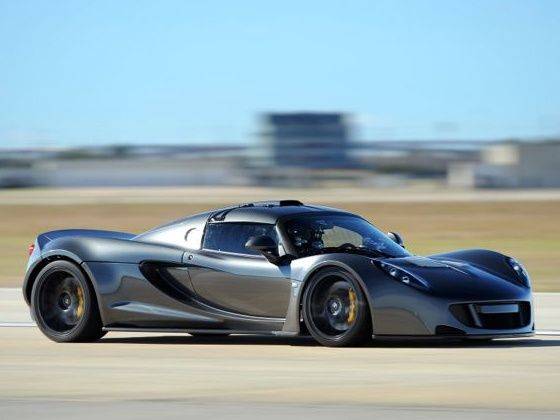 The magic 300 km/h figure is chased very often by modern supercars and performance cars as a top speed peg, even though car makers do play the social responsibility card of limiting top speeds of most run-off the mill cars to 250 km/h.
Then there is the rarefied breed of hypercars that seek to push the boundaries of physics. Hennessey Performance (HPE) is one such company that makes these physics defying hypercars.
The American performance car maker has now announced that their limited run Venom GT hypercar has smashed the 0-300 km/h world record with a two-way average timing of 13.63 seconds.
The Hennessey Venom GT is powered by a twin turbocharged 7.0 litre V8 engine that develops a staggering 1,261PS of power and 1564Nm of torque. The Venom GT weighs in at a mere 1,244 giving the rear-wheel drive hypercar a power-to-weight ratio of 1PS per kg.
With the firepower intact, Hennessey roped in Guinness representative Philip Robertson to witness the testing as well as to personally inspect the Venom GT before making any acceleration attempts.
As per the norms of timed high speed runs, the Hennessey Venom GT made two acceleration runs in opposite directions within an hour.
The first 0-300 km/h acceleration run was completed in 13.18 seconds with a tail wind of 6.4 km/h. The second acceleration run from standstill to 300 km/h was completed in 14.08 seconds while encountering a 9.6 km/h headwind.
The conclusive two-way average timing of the two 0-300 km/h high speed runs was 13.63 seconds, which has placed the Hennessey Venom GT in the Guinness World Records (GWR) as the fastest road legal car from 0-300 km/h.
The acceleration runs were conducted at Ellington Airport, southern Houston, Texas. VBox officials were present at the scene to strap on a VBox 3i GPS based data logging system onto the Hennessey Venom GT to record the vehicle's performance.
Philip Robertson the Guinness representative, who was in the car during a 0-300 km/h run said, "I have never ridden in anything this fast."
"We are exceptionally proud of our team at HPE who helped to make this new Guinness World Record possible," said company founder and president, John Hennessey. "This is just the first of several validation tests designed to show the world what our special car is all about - being the fastest. Period."
Guinness only recognises records in km/h. But it is worth mentioning that the Hennessey Venom GT also smashed the 0-200 mph (320 km/h) world record by hitting the 320 km/h mark from standstill in an astonishing 14.51 seconds. The earlier 0-200 mph record was held by the Koenigsegg Agera R that did it in 17.68 seconds, which is considerable 3.17 seconds shy of the Venom GT's record.
An interesting fact is that the world's fastest road legal car, the Bugati Veyron Super Sport has a 0-200 mph time of 22.2 seconds which is 7.7 seconds slower than the record holding Venom GT.
The world record has made the Hennessey Venom GT an even more worthy option to consider for those looking for a unique hypercar. There is only one glitch, Hennessy is making just 29 examples of the Venom GT and a third of them have already been sold.
The record breaking hypercar is worth $ 1.2 million (Rs 6.43 crore) as standard, and has a waiting period of six months. As the rules of exclusive vehicles go, there are optional extras that customer can choose to opt for and delivery costs are extra.
Alos read: Koenigsegg Agera R sets World Record