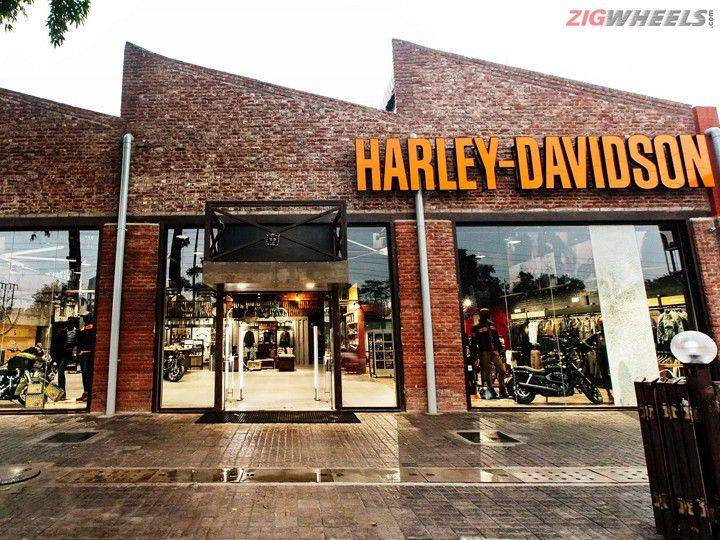 Harley-Davidson has gained a lot of popularity and fame in India through the motorcycles it offers in its portfolio. The Indian arm of the company has recently completed six years of successful retail operations in India since its official introduction in 2010. Now, in order to make their brand more accessible to its current and aspiring owners, Harley-Davidson India has opened a new dealership in New Delhi. Christened as 'Red Fort Harley-Davidson', it is the 25th in the country and the second in New Delhi.
The new dealership is located at A-16, Mayapuri Industrial Area, Phase-1, New Delhi, and boasts an area of 21,000 sq/ft, and will have the entire line up of 13 motorcycles on display along with a wide range of parts and accessories to customise motorcycles, and authentic Harley-Davidson merchandise. The new Red Fort Harley-Davidson dealership also houses an exclusive lounge for H.O.G members, a rooftop café, a ride in café, gaming zone, DJ lounge along with lockers and showers. The overall ideology behind the Red Fort Harley-Davidson outlet is to elevate and deliver personalised experiences that are authentically Harley-Davidson.
Also, in order to make the delivery of every new motorcycle special to the owner, the dealership features a Black Label lounge inside a shipping container and a Door to Freedom section for the motorcycle delivery. The walls of the outlet are decorated with graffiti and photo gallery dedicated to the personal expression and creativity that reflect the Harley-Davidson culture.
Speaking on the occasion, Gaurav Gulati, dealer principal, Red Fort Harley-Davidson, said: "Ever since my childhood days, I have been an ardent fan of Harley-Davidson. Launching Red Fort Harley-Davidson is a dream come true which has now made me a part of the Harley family. Being an avid rider and a passionate follower of the Harley lifestyle and culture, I have closely participated in designing the dealership as I wanted to share my experiences and bring alive the practices that every rider would want to enjoy. I hope that the dealership will help riders not feel contained in daily routine and help them enjoy the bohemian feel of the highway."