Hamilton gets done in engine oil
Jun 18, 2009
Views : 1252
---
While fans of the reigning F1 world champion have nothing much to look forward to in the current season thanks to the dominance of Jenson Button, they do have something else to look forward to. Lewis Hamilton became one of the most pictured British sportsmen in the world when he became the youngest driver to win the title.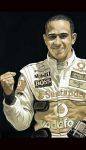 While a lot of portraits of the champion were made, none linked him to his sport as the latest portrait in oil does. And its no ordinary oil this. It's the Mobil 1 race oil taken directly from the Vodafone McLaren Mercedes car in which Lewis won last year's British Grand Prix at Silverstone. Mobil 1, technology partner to Hamilton's Vodafone McLaren Mercedes team, charged US artist David Macaluso with the creation of the picture of Lewis in typically triumphant pose to celebrate his title success and highlight Mobil's role in the UK-wide car maintenance initiative which kicked on June 15.
A limited run of 50 prints of the painting has also been made and one of these special pieces of memorabilia can be won in a competition at www.mobil-1.co.uk in the run-up to the British GP. The painting will have its first public outing at the ExxonMobil VIP customer event, on the eve of Hamilton's home Grand Prix at Silverstone.
Hamilton was expectedly pleased and said that he was extremely pleased with the way the painting has come out. He also mentioned that while he knew that the Mobil 1 is an important component that can give us an edge over rivals in some circumstances, he would never have imagined one could use it to paint. Macaluso who is an expert in using motor oil as a painting medium said that he has been recycling used motor oil into paintings since 2005, so it was exciting to do a portrait of Lewis, and it was a privilege. Painting with Mobil 1 used motor oil offered a wide range of tones and was obviously a very refined product from its texture. It was extremely smooth and very particle-rich, with all the engine dirt in perpetual suspension, making for a great painting medium.