GST Impact on Bike And Scooter Prices: How Has It Affected Two-Wheeler Prices?
July 1, 2017
Views : 233992
---
Find out if the prices of your favourite bike or scooter has reduced or increased post GST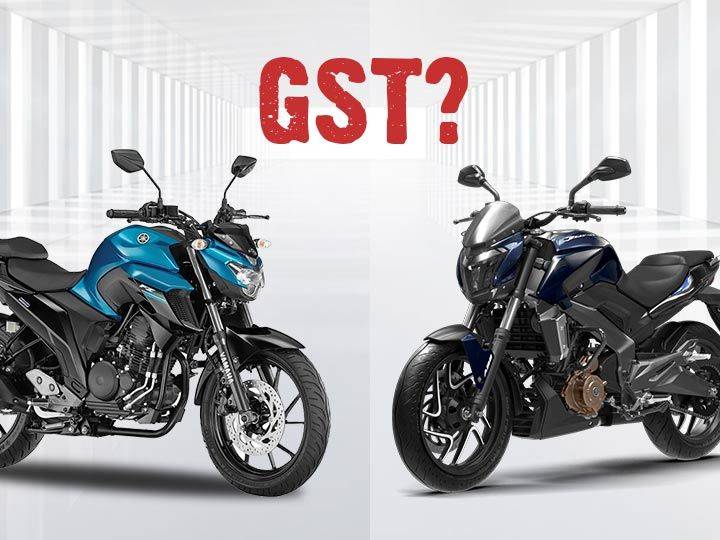 Taxes Going Down?
2017 seems to be a year of uncertainty and great margins for Indian two-wheeler buyers. First it was the BS-III discounts that made everyone scamper to the dealerships to get the best deal possible and two-wheeler sales reached new heights. The next big thing now is the Goods and Service Tax (GST). The government has implemented the new GST rule from July 1st and this has affected pricing of two-wheelers. Under the new tax structure, two-wheelers displacing above 350cc engine displacement will be levied 31 per cent GST whereas those below will attract 28 per cent GST. Based on the current tax slab, two-wheelers incur a tax of 30 per cent. Also Read - GST Prices of Top 10 Popular Two-Wheelers
Ups and Downs?
Two-wheelers under 350cc should become cheaper and those above have become more expensive. Prices for two-wheelers has gone down marginally but the amount isn't significant. We visited various dealerships to check whether they are offering GST prices but many said that the post-GST prices will be made available to them from Monday onward. One should also note that registration and insurance cost will rise, thereby offsetting the GST benefits and it will be interesting to see whether buyers really benefit from pre-GST prices. Also Read - List Of Revised Bajaj Bike Prices Post-GST
Reach For The Wallet?
Honda also has released post-GST pricing for its two-wheelers and the discounts are very meagre. Honda has dropped the price for the Activa 4G by just Rs 442 and that for the Honda Activa 125 by Rs 443. The popular Honda CB Hornet 160R is now cheaper by Rs 724 as compared to its pre-GST price (all prices are ex-showroom, Delhi). Hero MotoCorp also announced that the new GST tax has reduced prices for its two-wheelers ranging from Rs 400 to Rs 1,800 for its mass market two-wheelers. It also mentioned that the actual GST varies from state to state and certain models in its premium segment have witnessed a recustion of up to Rs 4,000 in certain states. In one or two states, such as Haryana, where the pre-GST rates were lower than the post-GST rate, prices for few Hero models might increase marginally. Also Read - Honda Prices Post GST
We have got our hands on the post-GST prices for Royal Enfield bikes and it isn't pleasing news for RE enthusiats. Ex-showroom prices for popular models like Classic 350, Bullet 350 and Thunderbird 350 have been reduced between Rs 75 and Rs 90! So if you were thinking to score a good bargain with post-GST prices, hard luck. As for the ex-showroom prices of Royal Enfield bikes above 350cc they have witnessed a steep jump ranging from Rs 2,500 to Rs 3,700 depending on the model. This hike in price is more amplified when one takes a look at the on-road prices as road tax and insurance cost have also risen. KTM 200 Duke prices have reduced by Rs 1,487 in Delhi while the new KTM 390 Duke is dearer by Rs 3,089. However it should be noted that GST prices differ from state to state and in Maharashtra the 390 Duke is cheaper by Rs 5,205. Also Read - Royal Enfield On-Road Prices Post GST
TVS Motors sent us a press release stating that they will be passing on the GST benefits to customers. Price reduction for TVS two-wheelers range between Rs 350 and Rs 1,500 in the commuter segment. For its premium bikes, TVS has said that the prices have been reduced up to Rs 4,150 depending on each state. TVS will also be providing suitable assistance to dealers who have older stocks that were purchased at pre-GST rates. Also Read - TVS Prices Post GST
Yamaha India has announced the GST revised prices for its two-wheeler and the reduction in price is marginal. That's because the Yamaha Fascino, which retailed for Rs 55,015 earlier, is now cheaper by a measly Rs 422 at Rs 54,593 (both ex-showroom Delhi). The Yamaha FZ25, which carried a price tag for Rs 1,20,385 pre-GST, is now available for Rs 1,19,335, a reduction of just Rs 1,050.From the above you can make out that savings on two-wheelers are marginal and not as significant against popular belief. So if you were in the hunt for a great bargain like how dealers were giving for BS-III vehicles few months back, you will be disappointed. Also Read - GST Impact - Yamaha Drops Prices Of Two Wheelers, Marginally
Bajaj and UM Motorcycle as they have decided have passed on the GST benefits to its customers. The Bajaj Pulsar 220 is now for Rs 1,05,002 while V15's price has dropped to Rs 75,473 (on-road Pune) and UM Motorcycles has reduced the price for Renegade Sports S by up to Rs 4,199 while the Renegade Commando is cheaper by up to Rs 5,684. (UM Reduces Prices). Royal Enfield and TVS Motor Company have announced that they will be passing the GST benefits to customers, but haven't specified the reduction in price.