A Spicer Gordon Murray Automotive T.50 Supercar Is In The Works
---
The performance enhancements for the T.50s blow the standard T.50 out of the water!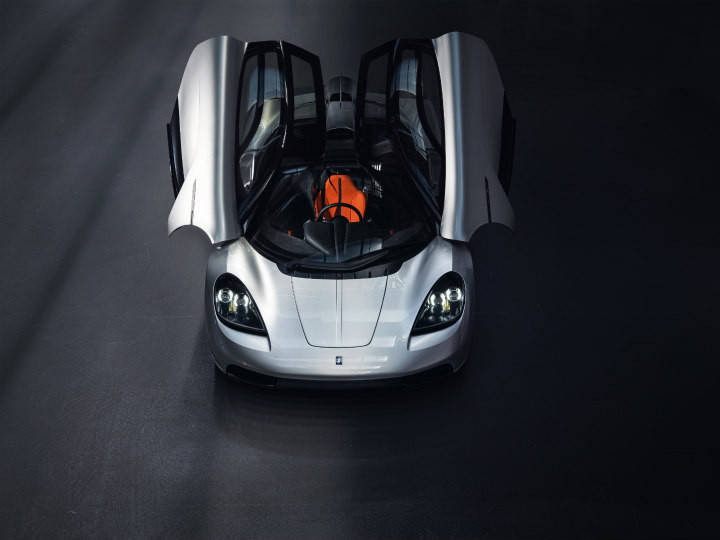 Standard T.50 images used for representational purposes
Revised 3.9-litre V12 engine now boasts 730PS of peak power.

It ditches the six-speed manual for an enhanced six-speed Xtrac Instantaneous Gearchange System (IGS) gearbox with paddle shifters

Aero enhancements like a 1,758mm-wide delta wing, aero fin, and a 400mm electric fan running in High Downforce mode generate more than 1,500kg of downforce.

It is also 96 kg lighter than before thanks to removal of unnecessary interior components.

Only 25 units will be made with more than half already sold out.

It will be a long wait as production will kick off in Q1 2023.
When Gordon Murray Automotive took the wraps off McLaren F1's spiritual successor, the T.50 supercar, a month ago, it generated a lot of buzz thanks to its screaming V12 engine, clean design and bonkers aerodynamics. Now it looks like jaws are set to drop to the floor as GMA has announced an even more hardcore iteration of the T.50 supercar via a teaser image. Codenamed the T.50s and exclusive to the racetracks, it boasts various performance enhancements.

In terms of powertrains, the T.50s retains the naturally aspirated 3.9-litre Cosworth GMA V12 engine as the standard model. But instead of a peak 700PS of power, the T.50s delivers an extra 30PS of grunt at 730PS. This is thanks to completely revised cylinder heads and camshafts, a higher compression ratio, and an all-new free-flow exhaust system. It also ditches the manual six-speed gearbox for an enhanced six-speed Xtrac Instantaneous Gearchange System (IGS) gearbox with paddle shifters. What's more, we're only scratching the surface when it comes to the performance enhancements.

The biggest upgrade in the T.50s is down to the aerodynamics. It gets a 1,758mm-wide delta wing at the rear inspired by Gordon Murray's 1983 Brabham BT52 Formula One racecar. Other aero wizardry comes in the form of new ground effect underbody aerofoil, front splitter, adjustable diffusers as well as an aero fin that runs from the top of the roof to the rear lip of the car. It also retains the 400mm electric fan which runs in High Downforce Mode at all times.

With the underbody diffuser ducts fully open and the fan running permanently at 7,000rpm, all these aero bits combined generate more than an earth-shattering 1,500kg of downforce. Not only does the aero package aid cornering prowess but also braking power as the T.50s generates forces up to 2.5G-3G under braking. The overall handling is also aided by a set of Michelin Cup Sport 2 tyres and 40mm lower ride height.

The T.50s has also undergone a major diet, weighing just 890kg. That's a weight loss of a whopping 96 kg compared to its standard counterpart (986kg). Much of that is thanks to the removal of the road-legal car's instrumentation, air conditioning, infotainment, storage compartments and carpets. It's still got a central driving position with a new carbon-fibre racing seat fitted with a six-point harness and a Formula One-style rectangular carbon steering wheel. But there'll be room for only one other passenger on the left.

All 100 production units of the road-going T.50 sold out within 48 hours of the unveiling at GBP 2.36 million (Rs 23.13 crore) a pop. The track-focused T.50s is even more exclusive with just 25 units, more than half of which have already sold out at GBP 3.1 million (Rs 30.19 crore) per unit. Owners will also get a full 'Trackspeed' individualisation package that includes set-up, training, racing and support. It will be a long wait for owners to get their hands on the T.50s as production begins by Q1 2023.