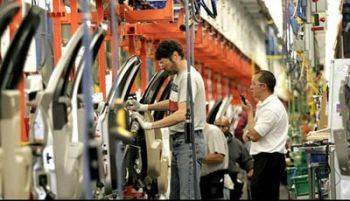 The ailing U.S. automaker said late on Tuesday that it would also cap its financial support to Saab by the end of this year as it seeks a buyer interested in the loss-making Swedish brand "given the urgency of stemming sizeable outflows".
For its Germany-based Opel business, General Motors Europe said on Wednesday it would begin talks on a restructuring process with a view to avoiding layoffs and plant closures, and was prepared to consider expressions of interest from third-party investors.
Sweden's government ruled out owning carmakers or their factories while lashing out at GM, accusing it of shirking its responsibility as an owner and alleging talks over state aid for Saab lacked a realistic basis.
"We don't know how much money GM is prepared to put into Saab. They've said they are going to do this for a year, but in order to keep operating it (Saab) for a year they need 8 to 10 billion (crowns) and they want us to provide 5 billion crowns (404 million pounds) of that," Swedish Industry Minister Maud Olofsson said.
With speculation continuing about how many of the planned 26,000 job cuts outside the U.S. would be carried out in high-wage western Europe, where roughly 50,000 GM workers are employed, outrage erupted among its labour staff.
"Opel makes a profit and we had a profit last year as well. Nobody on the outside knows that, they just always think that since the parent is falling apart that Opel is also bloody rubbish," said Francisco Jimenez, an Opel worker and IG Metall union functionary in Ruesselsheim, Germany.
"We sell our cars. People are interested in our models -- you have to wait three months for a Corsa subcompact."
European Opel dealers were keen to participate in a solution for the GM brand, potentially encompassing taking an equity stake in Opel.
"An all-encompassing framework concept for Opel's future must first be worked out between the German government and Opel, before we dealers could consider what our contribution would then be," Paul Ebbinghous, the head of the German Opel dealer association, told Reuters.