Geneva 2014: New Ducati Diavel unveiled
---
The new Ducati Diavel with both cosmetic and mechanical changes was showcased at the 2014 Geneva Motor Show. Here's what new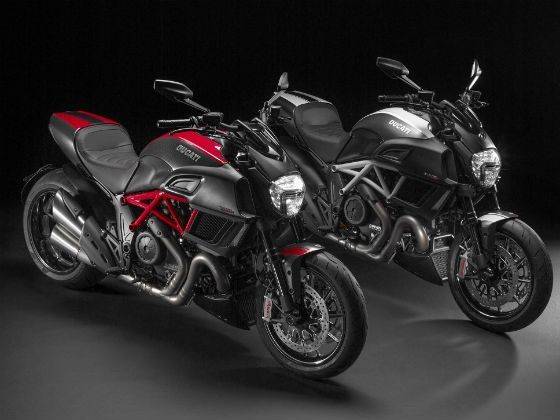 The Ducati Diavel is definitely among the most visually striking bikes in production currently. Yet, Ducati felt that it was time to spruce up the power cruiser and thus at the 2014 Geneva Motor Show, the 2014 Ducati Diavel was unveiled during its parent company, Volkswagen's Group Night presentation. To set the bike apart from its predecessor, the Italian two-wheeler manufacturer has employed full-LED headlight (developed with inputs from Audi) and a Ducati Performance Termignoni exhaust inspired new exhaust system. All though, the changes sound minor they help in differentiating both the models. Gladly the designers haven't fiddled with the basic silhouette of the bike that made it stand out, and one wouldn't confuse it anything but a Ducati Diavel.
The new offering will be available in three different trimmings. The "Dark Stealth" livery is the base model, with a black trellis frame and black wheels. Meanwhile, the optional Diavel Carbon will be offered in "Ducati Red" over matte carbon, with a red frame and in "Star White" paint over matte carbon, with a white frame. Both the Carbon models come with lightweight forged aluminium wheels finished in black sourced from Marchesini.
Another major highlight of the new Ducati Diavel is the addition of the Testastretta 11° DS (Dual Spark) engine. Peak power remains identical to the previous model at 164PS but it comes in early at 9,250rpm compared to 9,500rpm. Also, the torque figure has been hiked from 127.5Nm to 130.5Nm. All these changes according to Ducati have improved the mid-range power delivery of the motorcycle. The new Ducati Diavel has also been put under diet as it now tips the scale at 205kg, which is 5kg lesser than the older offering. Being a cruiser, comfort is a major aspect and for this purpose the handlebar has been raised along with a reshaped seat on the new bike for a relaxed riding posture.
All these changes come at a price, as the new Ducati Diavel is priced at $ 1,000 premium over the older model and deliveries in the international market will commence from April 2014 onwards. The new Ducati Diavel Dark will retail at $17,995 and two Diavel Carbon models will carry a sticker price of $20,995. Ducati is expected to be present in India officially and one can expect the new Ducati Diavel to land up at our shores with its other offerings. But being Ducati, it wouldn't be cheap and expect the power cruiser to be priced around Rs 25 to 26 lakhs!