A club of speed psychos make a visit to the Mercedes-Benz manufacturing plant in Chakan, Pune. Making an appearance at this meet was the most renowned car fanatic and Chairman of Super Car Club (SCC), Gautam Singhania (Managing Director of Raymond Group) who also organized an auto show in Nariman Point, Mumbai this Janyuary. After the show Gautam said "The parade this year was very good and a lot better than the previous years. These cars are here to show our passion. These events showcase the fact that the luxury car market in India is growing at an incredible clip year after year." The sports car industry is definitely booming in India and the biggest fact to prove it is the like of Porsche, Rolls Royce and Mercedes bringing their luxury and sports cars here.
As SCC made their trip to the place where all Mercedes' make birth it was the production of the AMG series that fascinated the guests. "The Mercedes AMGs represent the zenith of automotive excellence- and it was great to have a ride-drive experience with these cars. These lean, mean powerful machines really took our breath away," said Mohan Mariwala, Managing Director of Autohangar and owner of a C63AMG.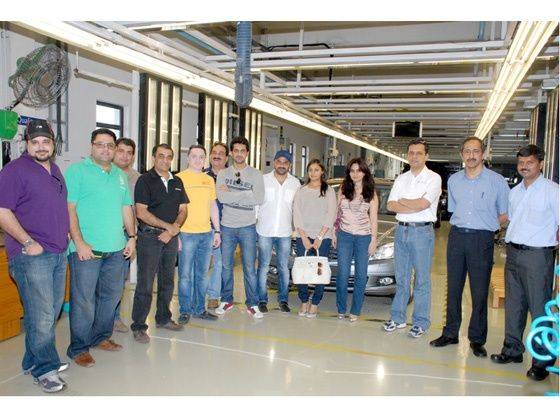 Members of Super Car Club at the Mercedes Plant in Chakan, Pune.
Speaking about fascination Gautam Singhania added "Cars fascinate us- and when Mercedes offered to host us for luncheon at their Pune plant, it sounded like just the perfect weekend for us. Here we are at the Mecca of luxury motoring in India - and loving every moment of it!"
Needless to say, that the members of the SCC had a mega blast at the mega factory of the oldest car manufacturer in the global automobile industry.