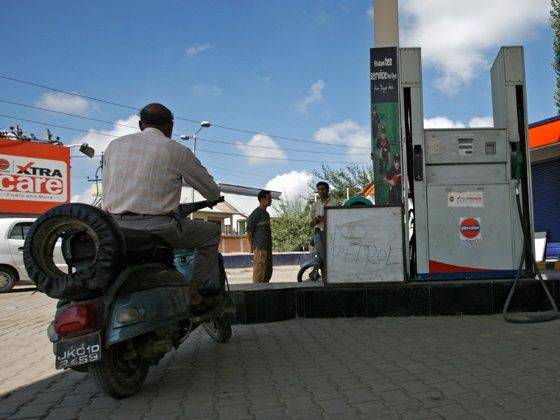 So the fuel price roller coaster continues to swing with gasoline reaching an all-time high. But what's more important is not the price itself but the frequency and the rate at which it has risen. A litre of petrol cost around Rs 50 in 2009 – that's an increase of almost Rs 30 in 3 years and if you average that out to a year, the impact is staggering. The reason for the price increase is almost as well known as the inadequacy of most of the politico types in our country and the saddest thing about this is that instead of protecting the interests of the common man, which makes up a big majority of the billion-plus strong populace here, the government is making money off us.
In the process, everyone except the working class is getting rich while normal people have to keep calculating and re-calculating their monthly expenses. It's in times like these that there are two kinds of vehicles that really seem like they're out to save the day – ones that run on diesel, and others that run on two wheels. While diesel cars may seem like the way forward (at least until the government decides it wants to hike the price of diesel too), it is the bikes that are really going to save the world.
Most countries look at motorcycles as a means of enjoyment and a luxury that goes beyond having a car. If you drive a good car, you're well-to-do and you may have good taste depending on what exactly you're driving. But once you have a motorcycle, any motorcycle in fact, you're someone with a lot of courage and who likes to enjoy life in the open. Unfortunately or fortunately as the case may be, perceptions are a little different in India and motorcycles are a means to a livelihood.
They're commuters, leisure gadgets, family transport and business vehicle all in one. With great fuel efficiency, the motorcycle can do what cars can never dream of doing in a country like ours – make the entire population mobile. While things are changing and both market and manufacturer are warming up to the niche performance bike scenario (three cheers for them), the core of the Indian motorcycling industry will always remain, though it may evolve. This is the very reason why simple commuters will always rule the roost as far as sales charts are concerned and with so many offerings in the mass market segment already there, it seems like the space never ends!
Call it coincidence or great timing, but regardless of whether Bajaj, Honda and Suzuki consulted the same crystal-ball-wielding fortune teller or not, they have brought out what can only be called as three of the most appropriate products of our times. Of course we're talking about mass market mobility here and with fuel prices soaring sky high the Discover 125ST, Dream Yuga and Hayate all make perfect sense. They're all great products, have taken commuting in style up a few notches and are still flying the flag for superior fuel economy – what more could the common man want! With all three bikes launched within just a few days of each other, here's a closer look at what each of these saviours have to offer.
Bajaj Discover 125ST
Looking to override the average looks and minimalistic features that we associate with commuter bikes of the present day and age, Bajaj has introduced the 2012 Discover 125 ST model with a far more aggressive fairing with sharp edged headlamps that underlines its sporty look.
Powered by Bajaj's patented "DTS-i Twin Spark" technology, the Discover 125 ST's four valve engine delivers 13PS @ 9000 rpm and 11Nm of torque, performance figures that currently top the 125cc motorcycle category.
Other significant highlights on the ST model include a specially designed "Anti Vibration" frame for better stability, visually appealing slender ribbed alloy wheels and aluminum side sets and Petal Disc Brakes that improve overall safety.
Honda Dream Yuga
Priced at Rs. 44,642 for the base variant, the Honda Dream Yuga brings low-cost commuting to the Indian masses with extremely high reliability and low cost of ownership. The bike is expected to hit the Honda showrooms by first week of June and it will target the entry-level buyer as a competitively priced feature-rich offering from the Honda stables.
The Honda Dream Yuga is powered by a 109cc single cylinder air-cooled engine that pumps out 8.5PS of power at 7,500rpm and 8.91Nm of torque at 5,500rpm. Fed by a carburetor, the Dream Yuga gets a 4-speed transmission and weighs a total of just 108kg. Company claims that the Dream Yuga can return a fuel efficiency of 72kmpl and couple that to the fuel tank capacity of 8 litres, the motorcycle can travel over 550km on a single tank.
Suzuki Hayate
Suzuki Motorcycle India Private Limited (SMIPL) has been showing signs of systematically shifting its focus to catering to the country's meaty commuter segment and the launch of its all new 112 cc Hayate – meaning "Fresh Breeze" will aim at building similar sentiments in the minds of Indian motorcycle buyers.
The 4-stroke, single cylinder air cooled commuter motorcycle from Suzuki promises an overall efficiency that closely matches the expectation of at least 70 kmpl from motorcycles belonging to this particularly value for money segment. Priced at Rs Rs 40,162 for the kick start (KS) model and Rs 42,162 for the self start model (SS), the new Hayate is available in 5 colour options.
With so much on the plate, these three are definitely one great way to beat the heat as far as fuel prices are concerned, but there's a lot more going on here than just fuel efficiency. The price of fuel may have gone up by Rs 30 since 2009 but one look at these commuters and it's clear that the style quotient on our motorcycles has gone up by a whole lot more. These aren't just bikes that you travel to work on and park outside the house at night. These bikes are bringing a sense of pride to what has otherwise been regarded as a segment of rather bland taste and no ambition. These motorcycles are changing our world!