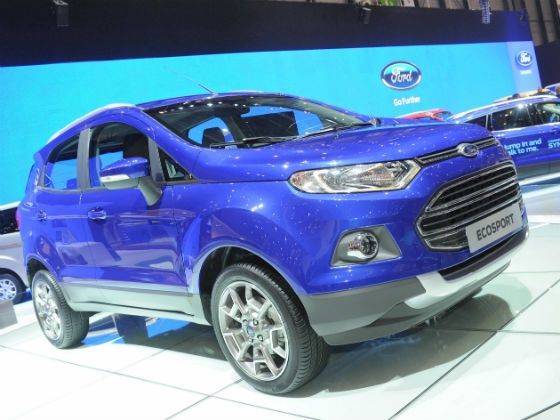 Following the launch of the Ford Kuga, the Blue Oval is all set to bring forth its much awaited EcoSport, which is being presented at this year's Geneva Motor Show. Based on Ford's global B-segment platform, the car promises to be extremely agile, and fuel efficient. Aside from the nimbleness and efficiency of a small car, the EcoSport also offers ample space, a high driving position and the feeling of owning a big car. The large front-end, short bonnet, and the raked front pillars give the car a sporty, aggressive and contemporary stance.
Once launched in Europe, the EcoSport will offer a range of powerplants, including the International Engine of the Year its 125PS 1.0-litre Ecoboost petrol engine, a 110PS 1.5-litre petrol engine and a 90PS 1.5-litre diesel engine.
Further to the EcoSport, the American car manufacturer also plans to bring the next-generation Ford Edge, a larger and more premium utility vehicle which is quite popular in its home country.
Ford has already launched the compact SUV in Brazil in September last year and it is expected to drive the company's growth further in India and China. Enthusiasts in India have had their first look of the vehicle at the 2012 Delhi Auto Expo and are now eagerly awaiting its launch.
With the Renault Duster and the Mahindra XUV 5OO already skyrocketing the entry level SUV sales charts, it is quite evident that the Indian masses are developing a particular liking for SUVs in this category. The Ford EcoSport is expected to be launched in India by mid-2013 at a price range of Rs 7 – Rs 10 lakh, it might just bring Ford back on the radar in India.