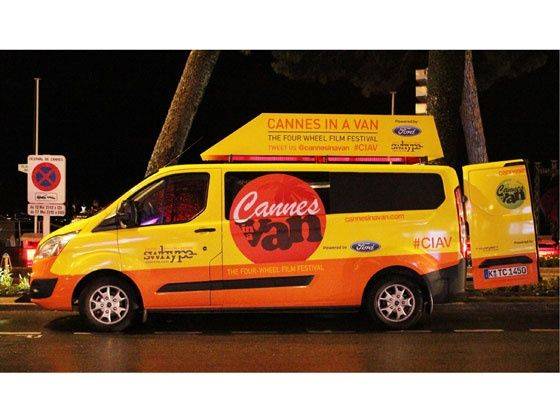 Ford has just given the attendees at this year's Cannes Film Festival a reason to look up from the handprints and signatures in the pavement to their new Transit Custom, a support vehicle at this year's Cannes Film Festival, which is puttering about screening indie films in the south of France.
It's called the Cannes in Van programme and will run alongside the glamorous Film Festival this year. This is the American car maker's second year as a sponsor for the prestigious event and fans may once again watch the very best of independent films in a special movie theatre that drives on four wheels.
The vehicle offering this special service is the Blue Oval's long-wheelbase Ford Transit Custom, which has been specially prepared for its role as a four-wheeled film festival, featuring a 55-inch plasma screen in the load area to display the films. To help movie goers locate the vehicle, roof-mounted advertising panels have been created, which are fixed to the Transit Custom's unique integrated roof rack system.
Speaking about this interesting movie screening platform present at Cannes this year, Andy Greenhouse, Cannes in a Van co-founder, "Inspired independent productions like '82' and 'Taking Life' made our 2012 Awards a special occasion, and it's a real privilege to take films like these down to Cannes and give them much-needed exposure within the festival. We're also really excited to have the new Transit Custom as our home for the sixth year of Cannes in a Van."
Winner of International Van of the Year in 2013, the custom van with its signature yellow and orange design colours will support a variety of other film festivals and 'pop-up' events in Europe. The year culminates with the international Van d'Or Awards for independent film, which will be held in September in London.