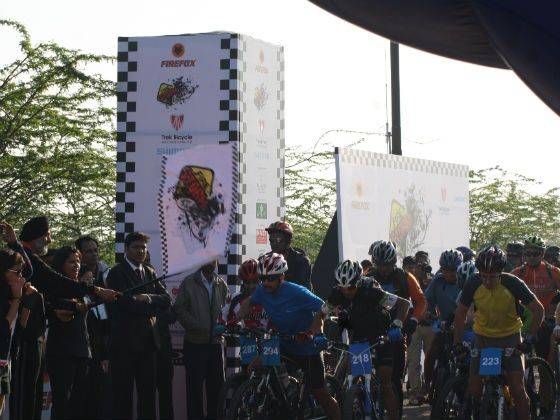 Cyclist in and around Delhi had a reason to cheer, as Firefox Bikes organised its second Firestorm mountain bike event on the out skirts of the city giving them a good opportunity to test their cycling skills. Over 150 biking enthusiasts participated in the event, which included both experts and novices battling for the ultimate biker tag. The 30km long race started from the trail off Surajkund Road in Haryana at 8am. Set in the broken terrain of Aravali Hills, the single track proved quite a task for bikers as they had to encounter and negotiate their way through loose rocks, narrow dirt paths and thorny Kikar trees.
The event was divided in two categorizes, expert class (5 laps with approximate distance of 30km) and enthusiast class (1 lap of roughly 6km distance). This division gave both the experts and amateurs a fare chance of winning their individual class and also there was a separate class for women. The expert class for men was won by Luis Canto Moniz of Portugal and was awarded with a cash prize of Rs. 50,000, while the enthusiast class won by Himanshu Kumar from Delhi who was rewarded with cash voucher of Rs. 10,000. In the women's expert category it was Dehi's Anita who crossed the finish line first to clinch the Rs. 20,000 cash prize and the enthusiast class was won by Monika from Chandigarh who was given a gift voucher of Rs. 7,500.
Speaking at the event Shiv Inder Singh, Managing Director Firefox Bikes on the occasion said, "This is our second edition and we are proud to hold events like these to encourage biking in India.Our endeavour is to promote cycling as an adventure sport in India and to take 'Firestorm' to the global level. We strive to provide world class biking experience here in India. We are overwhelmed with the number of participants the event has received this year and we hope to double the figures by next edition."
The initiative was supported by the Cycling federation of India (CFI). It was good to see that the safety of participants wasn't ignored as Firefox had made it mandatory that all the riders wore cycling helmets and closed sport shoes. The precautionary measures taken were not in vain as many riders, who fell from their bikes while negotiating the tricky trail were not seriously injured. All the contestants had a ball and expected that the company organised many such events on a regular basis.