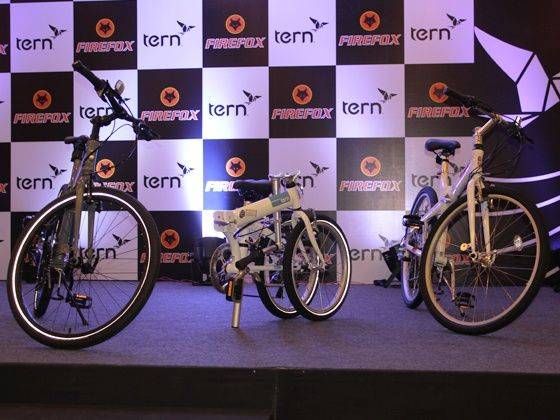 Firefox has expanded its range of bicycles in India by introducing the Tern brand of portable bicycles. Three Tern foldable cycles, namely, the Link C7, Joe C21 and the Joe D24 have been launched at Rs 28,670, Rs 30,770 and Rs 38,640 respectively.
Tern is a privately held company from Taiwan that sells its folding cycles in countries such as the US, China, Finland, UK and now India.
The Tern range of bicycles is extremely easy to fold and their portable nature will undoubtedly give them an edge for users who can fold their cycles and carry them up to their apartments or offices.
All one needs to do is follow five easy steps to fold the bikes,
1. Fold the pedals,
2. Undo the quick release on the seat position,
3. Open the hinge on the handle bars,
4. Swing the front wheel 180 degrees and
5. Fold the main stem of the frame.
Once this is done, magnets keep the bicycle from unfolding on its own. It's an extremely easy process and requires no tools at all for the job. The folded bicycles are small enough to be stored in the trunk of a car and their light weight makes them easy to lift as well.
Slideshow:
"Firefox pioneered the development of the leisure biking culture in India with their first range in 2005. Since then biking has grown to become an integral part of healthy, sporty, family and fun activities. With Tern folding bikes we now offer an even wider canvas of activities featuring bikes that can be folded into the boot of a car and easily stores in the limited space of apartments," said, Shiv Inder Singh, Managing Director of Firefox bikes India.
Tern Link C7 details
| | |
| --- | --- |
| Link C7 | Details |
| Wheel size | 20" |
| Gears | 7 |
| Folding Size | 13.4" x 33.5" x 25.6" |
| Suggested rider height | 4'8" - 6'3" |
| Maximum rider weight | 110 kg |
| Weight of the bicycle | 12.4 kg |
Tern Joe C21 details
| | |
| --- | --- |
| Joe C21 | Details |
| Wheel size | 26" |
| Gears | 21 (3 x 7 speed) |
| Folding Size | 13.7" x 36.2" x 33.2" |
| Suggested rider height | M: 5'6" - 6', L: 6' - 6'3" |
| Maximum rider weight | 115 kg |
| Weight of the bicycle | 13.9 kg |
Slideshow:
Tern Joe D24 details
| | |
| --- | --- |
| Joe D24 | Details |
| Wheel size | 26" |
| Gears | 24 (3 x 8 speed) |
| Folding Size | 13.7" x 36.2" x 33.2" |
| Suggested rider height | M: 5'6" - 6', L: 6' - 6'3" |
| Maximum rider weight | 115kg |
| Weight of the bicycle | 14kg |

Also read: Firefox launches two new Gary Fisher bicycles
Slideshow: