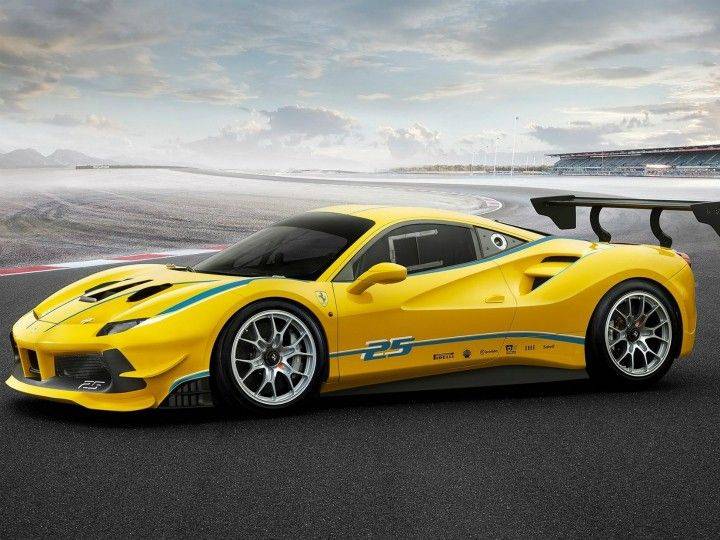 Remember the Ferrari 488 GTB, the supercar that was launched in India back in February this year? Ferrari has now selected the same car as its next one-make series race car, with a few updates. Replacing the 458 Challenge Evoluzione, the 488 Challenge will be the sixth Ferrari to take part in the Ferrari Challenge, but is by far the most powerful and the only turbocharged car to ever participate in the race.
The transformation of the 488 GTB to the 488 Challenge has made it almost a second faster around the Fiorano test circuit than the previous 458 Challenge Evoluzione race car. To make this happen, Ferrari engineers had to redesign the entire front bumper and hood for better aerodynamics and air intake. Also, the rear wing is considerably larger than the road car for better downforce. Moreover, the 488 Challenge has lost a lot of weight by making the engine and the exhaust system lighter. Advanced traction control settings have also been added to make the car perform better on the race track.
Powering the 488 Challenge is the same 3.9-litre turbocharged V8 which now develops 669PS of power. The engine gets a remapped ECU for optimised power and the seven-speed dual-clutch transmission has been given shorter gear ratios to keep the car on its toes. The result: the race car can reach the max revs of the fourth gear – from a standstill in just six seconds. Next year, the Ferrari one-make championship will celebrate its 25th anniversary. Debuting back in 1992, the Ferrari Challenge has, till date, seen about 1,000 drivers taking part in more than 1,000 races.