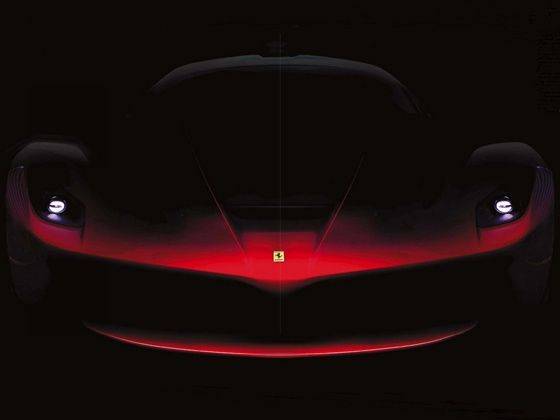 The iconic Prancing Horse is developing a new age hypercar to succeed the Ferrari Enzo. Ferrari has now revealed teaser images that show it sporting an F1 inspired nose, swept back headlights like those of the FF and the F12 Berlinetta, bonnet sculpted for aerodynamics and aesthetics, and double bubble roof to accommodate occupants' helmets as the car will undoubtedly feature on race tracks for the Italian marque.
At the back, the engine bay sits lower than the sides of the car that end with the company's signature round taillights. There is a string of LED brake lights running across the centre of the hypercar between the taillights. It appears that the car will have a single exhaust pipe at the lower centre that has been modelled to look like the stop light of an F1 car.
At the 2012 Paris Motor Show Ferrari showcased the naked chassis that uses three different types of carbon fibre, including one combined with kevlar to build the undertray to prevent damage from debris.
Initially codenamed the F150, it is likely to be named 'F70' when it goes on sale as Ford has a pick-up truck called the F-150. Ferrari has been developing the F70 hypercar with Formula One knowhow. Being Ferrari's flagship car, the F70 will have to outgun every supercar and hypercar on the planet.
To make sure the F70 is up to the job, Ferrari has armed it with a revised version of its 6.3-litre V12 engine from the F12 Berlinetta wherein it develops 750PS of power. However output is expected to go up to as much as 850PS in the F70. The engine is mated to a dual clutch gearbox and also featured is an F1 derived KERS system for additional power boost.
The Ferrari F70 is expected to tip the scales at 1,100kg which is 269kg lighter than the Enzo. Its chassis is 20 per cent lighter, 22 per cent stiffer and 27 per cent more rigid than its predecessor's.
As with every Ferrari, the F70 will lap the marque's private race track, the Fiorano circuit before it goes on sale. Where it will break the current lap record of 1 minute and 23 seconds is held by the F12 Berlinetta, while the Enzo lapped the circuit in 1 minute 24 seconds and 90 milliseconds.
The Ferrari F70 is sure to set a new benchmark for the next generation of performance cars and it isn't surprising that a Prancing Horse will be at the head of the pack.
Also read: Enzo Ferrari - Automotive Pioneer