F1 70th Anniversary GP 2020 Pre-Race Talking Points
---
A little competition for Hamilton and a popular face on the second row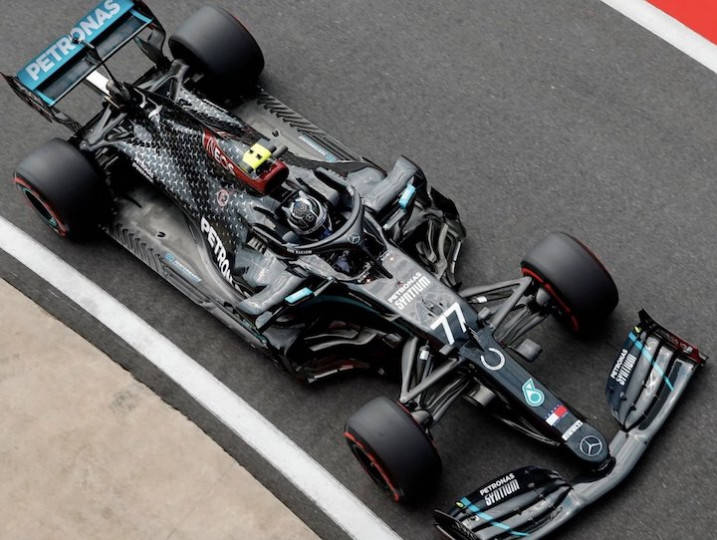 With no other team on Mercedes' level, the only competition that Lewis Hamilton has to stop him from claiming a record seventh title is his teammate Valtteri Bottas. However, the Finn has been inconsistent and was not as lucky as Hamilton when both their front-left tyres delaminated last week. With a 30 point deficit to Hamilton, getting pole position for the 70th Anniversary Grand Prix at Silverstone was a good start for Bottas.
Nothing in it

Just 0.063 seconds separated pole sitter Bottas from Hamilton on the timing sheets at the end of qualifying. Of course, getting pole is one thing, converting it to a win is something else entirely. Bottas has not been as consistent as Hamilton over a race distance and he is likely to be pressured as the five red lights go out to start the race on Sunday. Bottas will need to make a perfect getaway and ensure that he is more than a second ahead of Hamilton before the Drag Reduction System (DRS) is activated.
The battle for third

Should all go according to plan for Mercedes, one can assume that they will take first and second place for Sunday's race. But things look interesting behind the two black Mercedes cars. Just 0.696 seconds cover the cars classified third to tenth at the end of qualifying. Fan favourite Nico Hulkenberg qualified third for an F1 race for the first time since 2016 in what has been dubbed the 'pink Mercedes.' He and fourth placed Max Verstappen were helped by choosing the soft compound tyre for their final qualifying run. Perhaps more impressive than Racing Point-BWT Mercedes' Hulkenberg qualifying third was Daniel Ricciardo taking fifth place on the grid in his Renault. The Aussie was only 0.215 seconds slower and his lap was set on the medium compound tyres, just like the two Mercedes drivers. This means that Ricciardo has an extra set of soft tyres he can use strategically in the race. Most likely at the end of the race to gain position or maybe even try to score an extra point for the fastest lap of the race.
Controversy aplenty

It really isn't a Formula 1 season unless one team is protesting another right? Well now there are three teams protesting one. Renault successfully won their appeal against the design of Racing Point's RP20 car's brake ducts. Racing Point has been derisively called 'tracing point' due to the similarity of their car to last year's Mercedes. However, proving that they have not designed an original car is tough and requires the team protesting to find a loophole. Renault were able to successfully do so and it cost Racing Point 15 points in the constructors' championship and they were fined 400,000 euros. However, the team has been allowed to race the RP20 without modifying the car. That decision has prompted Ferrari and McLaren to file an appeal as Racing Point maintains their pace advantage. Proof of that was Hulkenberg qualifying third and Lance Stroll sixth. Meanwhile Ferrari could only manage eighth and 12th while McLaren were tenth and 13th in qualifying.