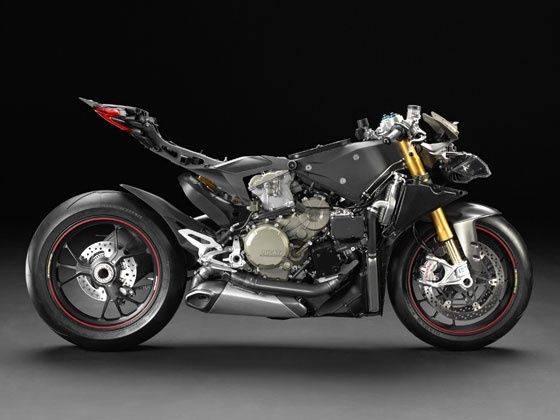 The highly anticipated images of the naked version Panigale 1199 have been released, illustrating another step forward for Ducati. The overall dry weight of the bike is now 164kg making it light, yet nimble. Using the superquadro engine as a stressed member of the chassis, the short and strong aluminium monocoque frame is made in die-cast alumiunium and is responsible for 5kg of overall weight saving, a design language that has been followed since the Pantah (1979).
The new engine carries Ducati's signature 90-degree L-twin configuration, but has been rotated top-end backwards around the crankshaft a further six degrees to give more clearance for the front wheel. The front-end geometry now has 24.5 degree of rake and 100 mm of trail. The new single side aluminium swingarm is 39mm longer than the 1198.
Weight distribution is also taken in perfection with 52 percent front and 48 percent rear which after the rider mounts, re-configures to a 50:50 allocation with an average size rider. The exhaust system now relocated below the engine is lighter and directly attaches to the engine in a 2-in-1-in-2 format. The magnesium sub-frame attaches directly to the frame providing secure support for the headlamp, instrumentation and fairing (need we say, what is left of it on the naked version).
The recently launched 1199 Panigale faired version of the 1199 Panigale had taken over four years to develop and proved to be a worthy successor to the 1198.