DICV Rolls Out FUSO Trucks for Export Markets
---
As part of their Asian business strategy, DICV has introduced two FUSO branded trucks aimed solely at the export market in Asia and Africa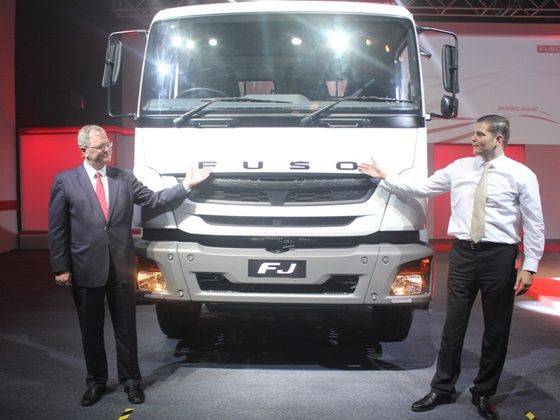 Daimler India Commercial Vehicles Pvt. Ltd. (DICV), a 100% wholly owned subsidiary of Daimler AG, Stuttgart, Germany along with Mitsubishi Fuso Truck and Bus Corporation, Japan (MFTBC), a Daimler Company, are all set to capitalize on the state of the art manufacturing facility in Oragadam, Chennai by producing a line of FUSO trucks solely for the export market.
In the first phase of exports, the company is looking at targeting over 15 countries located in Asia and Africa and selling close to 1000 units in the first year. The first trucks for export are set to go to Sri Lanka in June this year. The trucks for these markets are based on the 'Daimler Trucks Technical Platforms' and have been found to be well suited for usage in the targeted markets.
FUSO is a well known brand worldwide and does business in over 150 markets. The company has 19 assembly/manufacturing units globally and the Indian outfit is expected to play a pivotal role in the company's Asian growth strategy in coming years.
Incidentally, the FUSO branded trucks will not be sold in India, however the same trucks will be marketed under the BharatBenz brand, therefore making these products available to Indian customers as well, albeit under a different name. Speaking about the potential of the FUSO brand, Dr. Albert Kirchmann – Head – Daimler Trucks Asia and President & CEO, MFTBC, said, "The New Asia Business Model will enable us to unlock full potential among MFTBC and DICV, and we are already bringing strategies into reality. We have done our homework in repositioning our MFTBC operations, ramping up DICV business, and establishing presence of the BharatBenz brand in India. Now, with the strategic FUSO truck ready for launch for export outside of India, our growth story 'FUSO 2015' is at full speed ahead."
Currently the DICV facility in Chennai produces 36,000 trucks a year. At peak capacity, the factory can produce 72,000 units. In order to maximize the facility's output the decision was taken to manufacture the FUSO trucks in India and cater to the export market from here. Commenting on this, Marc Llistosella, Managing Director and CEO - DICV, said, "The launch of FUSO trucks from our manufacturing facility at Chennai is a clear demonstration of the same exacting quality standards practiced by Daimler facilities around the world. The export potential of DICV adds strength to our business plan while also encouraging the possibility of higher sourcing from the Indian suppliers".
The FUSO trucks range manufactured at DICV's Oragadam plant comprise 5 models spanning Medium/Heavy-duty (25 – 49 tonnes referred to as 'FJ', 'FO' & 'FZ') and Light/Medium-duty (9 – 16 tonnes referred to as 'FA' & 'FI'). These trucks will be exported and sold through the FUSO Network to 15 markets in Asia and Africa namely, Indonesia, Thailand, Malaysia, Tanzania, Malawi, Uganda, Zimbabwe, Mozambique, Mauritius, Sri Lanka, Bangladesh, Kenya, Zambia, Brunei and the Seychelles.
Also read: Daimler India Commercial Vehicle integrates Mercedes Benz Bus Division