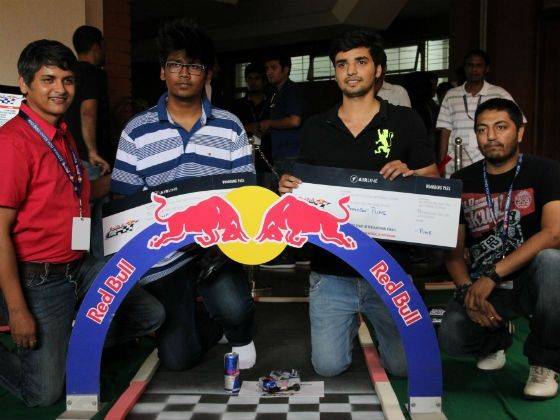 Pune round of the 2012 Red Bull Racing Can Series concluded with two lads, Jayesh Kadam & Karan Chauhan from Ness Wadia College & Sinhgad Institute respectively, bagging the top honours driving their RC-powered car christened 'Devil's Own' to the top place on the podium.
Now in its second year, the Pune round of the 2012 Red Bull Racing Can series was held at the Symbiosis Centre of Management Studies in Viman Nagar and it witnessed participation from twenty four teams in total.
The idea behind Red Bull Racing Can is to bring out the creativity amongst young budding motorsports enthusiasts, wherein they are given the basic chassis of a RC-car and have to build race-car bodywork around it compulsorily made out of tin metal from used Red Bull energy drink cans.
Out of the twenty four entries, four finalists were selected based on qualifying results, which then battled to win the Pune leg. Raced around a short but technical circuit built within the campus, the race was an excitement packed event with the participants getting cheered on by several motorsports fanatics present at the event.
But crossing the finish line in first place was not enough as points were awarded based on the overall creativity in design as well as the flair in construction and build of the car.
Judging the event were Varad More, a motorcycle racer and a motorcycle journalist, and Chandrashekar Wyawahere, a graduate in architecture who has worked in Europe with leading design studios.
Taking the second place was team Butter Chicken of MIT Institute of Design and team Aspire X from Symbiosis College, Lavale. The winners, Devil's Own will now represent Pune at the national finals that will be held in Mumbai in October and they will have to slug it out against regional winners from Mumbai, Delhi, Bangalore, Chennai, Hyderabad and Kolkata.
The winner of the national finals, Red Bull Racing Can Champion from India, will then get the chance to compete against twenty four other nations at the Red Bull Racing Can World Finals in Sao Paulo, Brazil.