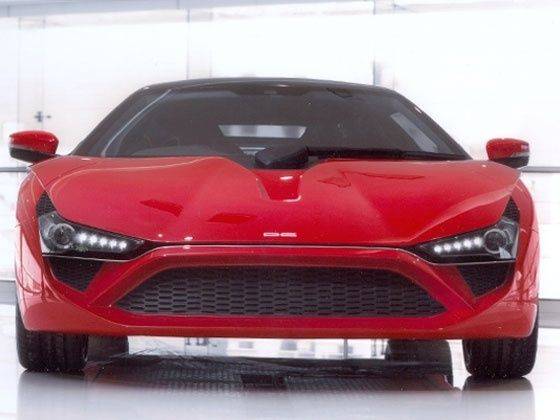 A twisting coastal road on the French Riviera winding out in front of you, a revving V8 engine bellowing behind you, your right foot the conductor of a pantomime opera of sonorous exhaust notes and intoxicating speed – the ultimate automotive dream, right? Let's face it, for most of us mere mortals, this picture will always remain a dream. For this picture to leave the world of reverie and transform into one of reality, you need a car that is Italian on roads that are French, or maybe even German, funded by money that is usually middle-eastern. But then one man, and we're not talking about some average auto Joe here, but one of the most iconic automotive designers to ever put pen to paper in India, would disagree with that last bit.



Popularly known as DC, Dilip Chhabria has stunned the world with not just brilliant customization jobs on production vehicles, but also dramatic one-offs which would make anyone who owns them the envy of the entire automotive world. DC, and in particular his design firm, DC Design, has, over the course of the last several years, has developed unparalleled expertise in high-quality tooling and prototyping techniques to bring to life the most spectacular of automotive designs. And the car you see here, the Avanti, is the result of these skills.


The name, Avanti, is quite apt too, as not only as it reflects its Indian cultural roots, but in Italian, the language common to all the world-renowned automotive styling houses, means 'to move forward'. And that's exactly what DC is doing, moving forward from making mere one-offs, to making a proper production model. Yes, this absolutely stunning looking car, though only in the rolling sculpture stage at the moment, is slated for production. But this is only the half of it. The real shocking bit about the Avanti is that though it will only see a limited production run, like most supercars, it could be yours for a very un-supercar-like price of just Rs 30-lakh!


And don't for one minute think that this is just a Toyota Corolla underneath with a slapped-on body kit – it's a true-blue sports car with a two-seats at the front, an engine in the middle and the driven wheels at the back. The chassis itself is a spaceframe construction of square, rectangular and round sections to get the best structural rigidity not just from a concern of passenger safety, but to endow the car with great handling characteristics to match the sporty looks of the body shell as well. And in true sports car fashion, the Avanti will feature unequal length double wishbone suspension at all four corners with coil-over springs, ensuring that the sticky 255/45 section front and the 285/40 section rear tyres, shod on the massive 19-inch wheels, will make the optimal contact with the tarmac at all times.


DC has gone all-out with all the other components in the car as well. Stopping power comes via four massive 330mm disc brakes at all corners grabbed by AP Racing calipers as a standard fitment, all of which should ensure that the Avanti will have the braking prowess akin to the best sports cars out there at the moment. And there is no compromise on the safety front either, considering that automotive safety experts Bosch lent a hand in developing ABS as well as SRS airbags for the car. And if you think all this stopping power and these safety systems are a tad too much, then you'll probably reconsider with you realise the fact that the Avanti actually has to be actually electronically limited to a top speed of 250km/h!
To help the Avanti reach such performance figures, it packs some very special firepower in its engine bay. No, this is not your typical twelve, or eight or even six cylinder excess like you find in contemporary super cars. Instead, DC has chosen to think less Ferrari, and more Lotus, by sourcing a four-cylinder mill to sit between the driver and the rear wheels. But this is no run-of-the-mill...er... mill, but a specially tuned 2.0-litre Ford EcoBoost motor, which is surprisingly the second mention of the 'EcoBoost' at the 2012 Delhi Auto Expo, the first of which was when Ford announced that they will be producing a 1.0-lite version of the same in India. This engine not only features turbocharging and direct fuel injection, its 16-valve top end comes with a twin-camshaft setup and a variable valve timing system. What you get is performance easily at par with larger 3.0-litre engines, with 240 horses at its beck and call, coupled with an astounding 366Nm of torque.
Combine that with a chassis which weighs 1,560kg, and an option of either a six-speed manual or six-speed PowerShift dual clutch gearbox to drive the wheels, you'd better believe that the performance figures are going to be something to talk about. But when you consider that this engine is achieving all this oomph with a litre less of cubic capacity than any other motor would require, another upshot you can expect is better fuel efficiency as well as lowered emissions. With the engine already compliant with stringed European emissions norms, and the option of tuning it a little to even meet upcoming Euro 6 legislation, there is a good chance that the Avanti would find a home in markets outside India as well.



DC plans to produce the Avanti out of DC Design's workshop near Pune, where every car will be hand assembled with the utmost of precision, which restricts the production numbers to just 300 units in the next two years (i.e. 2013-14), but the designer par excellence is confident that if all goes well, that number can be ramped up to even triple digit figures. But considering those numbers against literally millions of car buyers in the country who would desire a sports car at that oh-so-attractive price tag, you'd still have to be either extremely lucky or pretty well connected to get your hands on one. Well, some dreams might still remain dreams, but we're glad that this one's just got so much closer to reality.