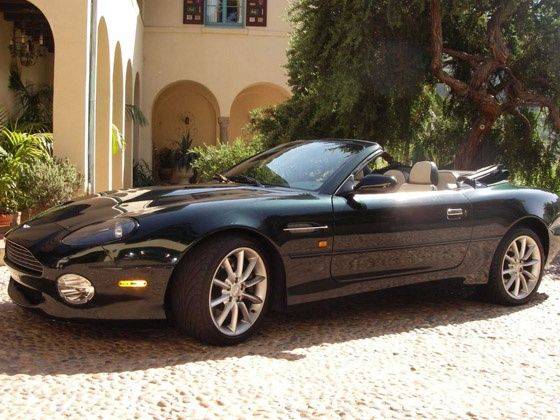 A fast car by any footballer's side is the ultimate accessory he can wish for and David Beckham is no different. From Bentleys and Mercedes to Astons and Ferraris, this footballer owns many of the most expensive cars in the world.
His collection of cars started with a not-so-glamorous Ford Escort in which he used to travel to training for Manchester United in the mid-1990s. As he started tasting success, he moved on to buy his first two-door sports car, the Honda Prelude in the year 1996.
1997 saw David buy his first high-performance car, the BMW M3 Cabriolet, which no longer is owned by him. Beckham sold off this German convertible in the year 2005 for almost the double the prize he bought. Now that's what we call star power!
Since then there was no looking back for this footballer. His value climbed to new heights and so did his passion for cars. The Porsche 911 Carrera, a Cadillac Escalade, a Porsche 911 Cabriolet, a Rolls-Royce Drophead Coupe, a Range Rover Sport, a Jeep Wrangler, the Lamborghini Gallardo and the screaming-macho Hummer H2, are some of his cars. All in black, mind you!
But hold on to your breath, because there is more to the list of luxurious cars owned by Beckham. The Mercedes S500, Bentley Arnage, a custom built Ferrari 360 Spyder, Ferrari 550M, Porsche 911, Range Rover Vogue, an Aston Martin DB7, Aston Martin Vantage V8, Lincoln Navigator, TVR Cerbera, Porsche 911 Turbo, Land Rover 4.6 HSE, Chrysler Grand Voyager, a Jaguar XKR and a bunch of armor plated BMWs (750i, 540i, X5). Not to forget his Rolls Royce Phantom and Porsche Boxster, phew, if that's not an exhausting list, we don't know what is.
David's passion for cars reflects from the fact that he owns a gargantuan fleet of cars, which he changes regularly. At the latest count, he owned seven pieces of exclusive hot metal from some of the best carmakers in the world!