Dakar 2020: Sherco-TVS Racing Finish Just Outside The Top Ten With Adriene Metge While Harith Noah Soldiers On
---
Just 23 minutes shy of a top ten finish, Adrien Metge ends the first ever Saudi Arabian edition of the Dakar Rally with a flourish for Sherco-TVS Racing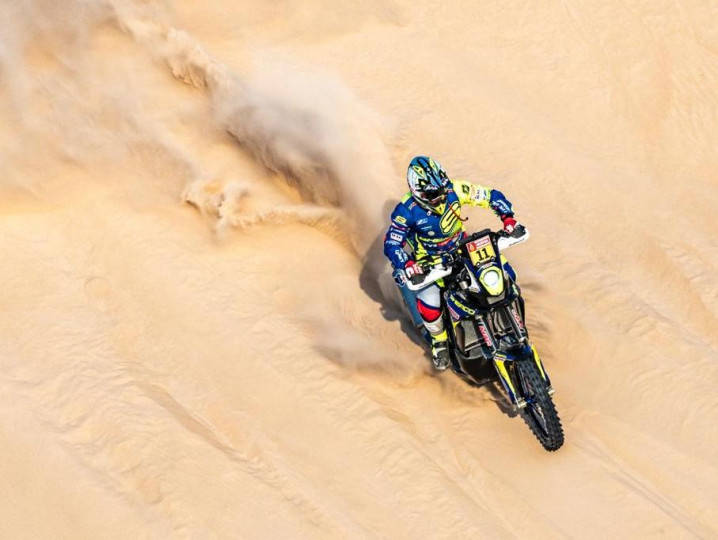 Twenty-three minutes sounds like a lot but over almost 5,000km it is akin to a few bike lengths over the course of a race. That's pretty much how Sherco-TVS Racing's quest for their first top ten finish at the Dakar Rally ended after the final 167km stage that ran from Haradh to Qiddiya.
Metge was seventh fastest in the final stage but it was not enough to overhaul the deficit to Andrew Short, who ended up being one of three American riders in the top ten of the motorcycle category. Short, Skyler Howes (both riding Husqvarnas) and overall winner Ricky Brabec on his Honda capped a historic Dakar Rally for the United States.

Meanwhile, Harith Noah – riding in the Dakar Experience category since the fourth stage – finished his first Dakar Rally with the 27th fastest time in the final stage. The 26-year-old Keralite was the only Indian rider remaining in the event in any capacity after Hero MotoSports Team Rally withdrew from the rally after the death of their rider Paulo Goncalves in the seventh stage.

That meant that CS Santosh, who had been 35th overall, was unable to attempt to improve his best ever finish of 34th overall, which he had achieved in the 2018 Dakar Rally.
Add Your Comments