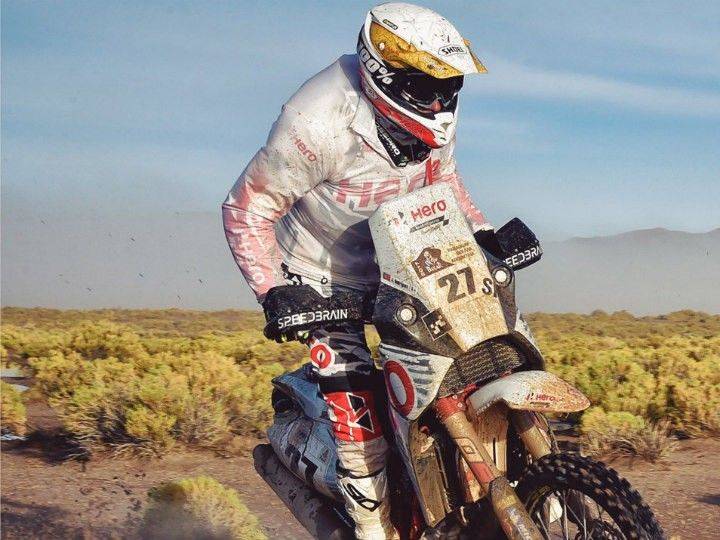 The eighth stage of Dakar 2017, which was conducted between Uyuni and Salta, saw some amendments in its route, thanks to the persistent rains in the region. The course, originally 392km long, was cut down to 324km. However, participants seemed more than eager to resume their charge in the stage, no matter what, and Hero MotoSports Team Rally pilots were no exception. Improving on their overall positions, Joaquim Rodriguez snugged into the coveted top 10 batch of riders, while C.S. Santosh rose to 62nd position from 67th. Joan Pedrero, TVS Sherco's most experienced rider, finished fifth, whereas Adrien Metge made a touchdown at 25th position.
The stage was won by Joan Barreda with the best time of 4 hours, 28 minutes and 21 seconds, followed by Matthias Walkner at around 4 hours and 31 minutes, while Sam Sunderland stood third, separated by just 3 seconds from Walkner. J-Rod was separated by 16 minutes and 36 seconds from Barreda, whereas Pedrero was only 6 minutes behind the latter. Santosh, on the other hand, finished 47th in the eighth stage with 5 hours, 14 minutes and 01 second on the clock.
The wet mud caused a lot of riders to stop at numerous places to wipe dirt off their goggles and gloves. The weather conditions also forced the organisers to change last liaison, and the assistance crews and participants had to take a detour of 150km through the back roads to reach Salta. The original, pre-detour map of the stage is given below.
Meanwhile, reigning champion Toby Price has been cleared by the La Paz hospital to take the long flight back home (Australia). As we had reported earlier, Price had a nasty crash in the fourth stage, which took its toll on his left femur bone which got fractured from four points. He was operated upon in the La Paz hospital and was reported to have sustained a seizure due to a blood clot in his lung. Thankfully, Price seems to be on his way to a speedy recovery, which better be, since his ambition is to be back on his bike in just four months!
As for the next stage, which was scheduled from Salta to Chilecito, has been cancelled due to bad weather and excessive rain. The stage was almost 1000km long and is christened the 'Super Belen' stage, which tests the navigational skills of the participants. The stage comprises of 406km of the competitive section and is pegged as an important stretch in deciding the final winners of the rally. In the previous editions of Dakar, the Super Belen has surprised many participants and produced astonishing results. Sadly, we won't be able to enjoy the excitement it provides this year. However, do watch this space for more updates.