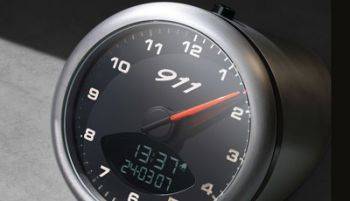 Porsche opens its gift bag with its 2009 range of calendars which include a "Style calendar" which showcases the German supercar maker's designs right from the Type 64 from 1939 to its current range, as well as a "Historics calendar" representing Porsche's rally history from 1950 till date. The other 'time' related goodies from Porsche is a range of limited edition Chronograph watches, but our very favourite timepiece is the tabletop clock, which is designed to replicate that delightful look of the Porsche 911's rev-counter and also produces the car's sound as an alarm. Now who wouldn't want to wake up to the sound of a raspy opposed-6 engine in the morning?
Of course, Christmas gifts wouldn't be complete without a selection of winter wear, and the Stuttgart-based auto maker is offering a two-tone woolen scarf and hat this winter, with small Porsche badges stitched on, of course. Porsche's winter theme seeps into its range of kids' toys as well, with a Porsche designed aluminium snow-sledge. And when the kids are done playing outside, they can wreak havoc inside the living room and teach their parents a thing or two about being environmentally conscious with the little Cayenne electric kiddy car.
To round off this year's Christmas gifts collection, Porsche is also offering goodies like scale model cars, a slot-car race track set and a plethora of other little tit-bits like diaries and handbags; all of which are available on the Porsche Design website.