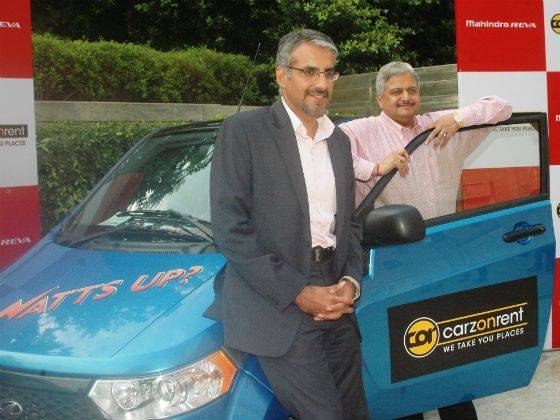 Mahindra Reva and Carzonrent have announced a strategic partnership introducing the Mahindra e2o electric vehicle for self driven hire. From October 2013, Carzonrent will make available the Mahindra e2o in New Delhi, Bengaluru and Mumbai with each city having a fleet size of five e2os to begin with. The service will be expanded to all metropolitan cities eventually.
The initiative encourages eco-friendly travel in metropolitan cities as well as enhances electric vehicle charging infrastructure in India with over 100 charge points in key cities. The customers will be able to charge their rental vehicles on these charge points free of cost. The company then plans to enhance the availability of Mahindra e2o to expand in multiple locations across the cities.
Commenting on the association with Carzonrent, Chetan Maini, Chief Executive Officer, Mahindra Reva, said, "Our association with Carzonrent will bring Mahindra e2o and the concept of 'Mobility as a service' together, giving customers an opportunity to realise the endless benefits associated with this innovative solution. We have observed that a 10-minute test drive is not sufficient for customers to experience the convenience and benefits of an electric car. Hence this association will allow customers to use the e2o for a few hours or days and get an insight into this new and exciting next generation hasslefree mobility solution. As a leading electric vehicle manufacturer in the country, Mahindra Reva is committed to develop not just electric vehicles, but also an entire ecosystem of sustainable mobility service that will benefit society at large".
One can log on to carzonrent website where a refundable security deposit of Rs.5000 will be blocked on your cash card for the booking. The charges according to hours for the rental are given below.
| | |
| --- | --- |
| Time Rented (hours) | Price (Rs) |
| 2 | 200 |
| 4 | 300 |
| 6 | 400 |
| 12 | 500 |
| 24 | 800 |
Speaking on the occasion, Rajiv Kr Vij, Managing Director & CEO, Carzonrent said, "Carzonrent has always been in the forefront to re-define ground transportation industry in India and to offer innovative and global car rental services to Indian travellers. With the inclusion of Mahindra e2o in our self-drive fleet, we are bringing forth an eco-friendly initiative in the Indian travel market. The automatic, wi-fi enabled e2o, with built-in navigation system will trigger a new era of convenience. At one third the cost compared to other self-drive cars, the e2o will be a game changer in the self-drive business model and will provide a completely new experience to the city commuters."
The all-electric Mahindra e2o with zero carbon emission was launched a few months ago. The car is equipped with a fully automatic transmission with Boost Mode for quick acceleration and a range of 100 kms.
Related: Mahindra e2o features and tech specs