Byton's All-electric M-Byte Gets The World's Largest Touchscreen Display!
Sep 16, 2019
Views : 9393
---
Showcased at the Frankfurt Motor Show, the all-electric SUV comes with a maximum range of 434km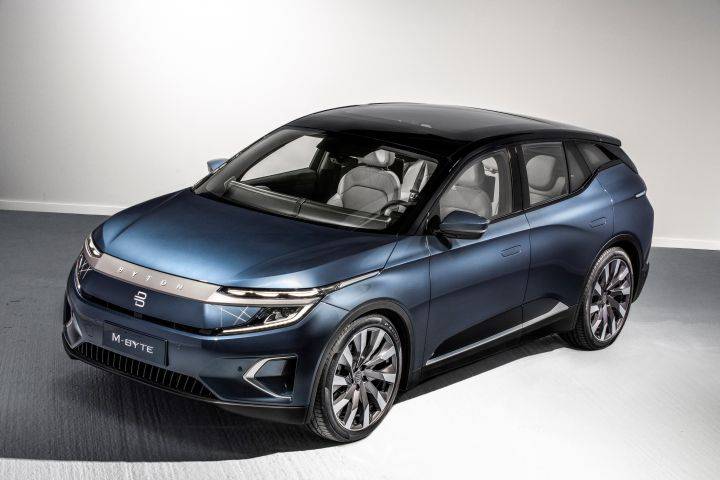 Byton is an all-electric carmaker out of China.
The M-Byte all-electric SUV is the first product from Byton since its inception in 2017.
The M-Byte will come in two iterations -- 72kWh rear-wheel drive and 95kWh all-wheel drive.
It also gets a 7-inch tablet attached to the steering with an 8-inch tablet between the front seats.
Deliveries are set to commence from mid-2020 in China.
The all-electric SUV will be priced from $45,000 (Rs 32 lakh).
Byton, a Chinese startup founded in 2017 by former BMW and Infiniti executives, showcased the producn version its first offering, the M-Byte, at the ongoing Frankfurt Motor Show. Here's what it's all about:
You might not have heard of Byton before but we're pretty sure that you've heard of the two companies that are backing this new startup: Tencent and Foxconn. Yep, the makers of the hugely popular PUBG game and the makers of Apple's iPhones.

The M-Byte that you see here is its first offering. The all-electric SUV comes in two iterations -- a rear-wheel drive and a range-topping all-wheel drive variant. A 72kWh battery powers an electric motor good for 270PS and a range of 360km in the entry-level variant. The range-topping AWD variant gets a 95kWh battery pack powering two electric motors to churn out 402PS along with 434km of range.

The engine and specifications are just the tip of the iceberg as the M-Byte is basically a tech-fest on wheels. The massive 17-inch touchscreen unit in Tesla cars fade into oblivion when you come across the M-Byte's 48-inch display that is also curved! And just when you think the widescreen TV is everything, you'll come across the 7-inch driver tablet attached to the steering. Two screens of that size is overload for a car but Byton doesn't think so; they are also offering an 8-inch co-driver tablet between the driver and passenger screen. We would definitely like to end this here but the all-electric SUV also gets two front-seat mounted displays for the rear passengers.

The slew of displays are just one side of the story, and it gets even better. The front seats can be rotated by 10-degrees, it gets advanced gesture controls, aerospace-inspired flat antenna that supports 5G, cloud connectivity, and facial recognition. The M-Byte also comes with fast charging capabilities utilizing a 150kW charger that will take 35 minutes to fully charge the battery.

Styling is best described as eccentric, with more crossover attributes than an SUV. Pricing for the M-Byte is claimed to start from $45,000 (Rs 32 lakh) making it considerably more affordable than the Audi e-tron and Tesla Model X (both around $70,000). Deliveries are slated to commence from mid-2020 in China. The e-Tron, meanwhile was showcased in India with prices expected to start from Rs 1.4 crore. Going by that, the M-Byte, if it makes its way into India, will be priced in the vicinity of Rs 80 lakh.
Add Your Comments