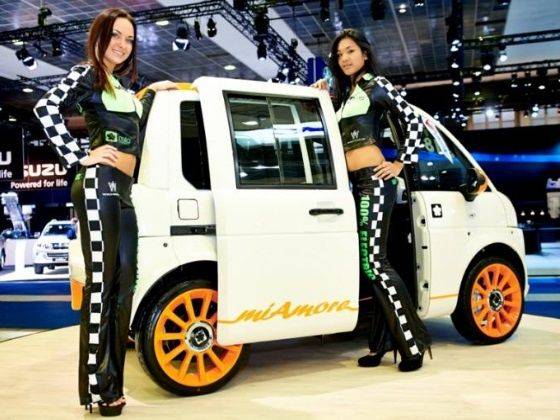 Women are being told what to wear and what not to by politicians not just in India, but in ostensibly modern and civilised Belgium too. Following reports of indecent behaviour by some male visitors at last year's Brussels Motor Show, Belgium's Equal Opportunities Minister Joelle Milquet criticised auto-makers for using skimpily clad women to promote their vehicles.
"A motor show is a place where you go with your family, we have to question the stereotypes we are passing on to children and young adults," Milquet wrote to the Febiac, the organisers of the event.
Febiac, in return, requested auto companies to ensure they have appropriately dressed models at their stands at this year's event which began January 11 and runs till January 20. "We asked them to be responsible and sensible and we hope that everything will go well," a spokesman for Febiac is quoted by Reuters as saying. Also Read: 2013 Detroit Auto Show Special Coverage
So has the minister's stinker had any effect? A Suzuki Belgium company spokesman assured that Suzuki's stand at the ongoing event won't "shock." Most other auto-makers too seem to have embraced a more modest dress code.
The Brussels Motor Show is not the only one that's been chastised in recent times for using skimpy models. In September 2012, organisers of the Beijing Motor Show earned the rap of Chinese authorities after several car makers had scantily-clad and even some near-nude women posing at their stands.
We wonder if SIAM will take a cue from this, especially with women's safety becoming such a hot-button topic these days? What do you think; do show girls at the Delhi Auto Expo need a dress code?
Photo courtesy: Autosalon.be