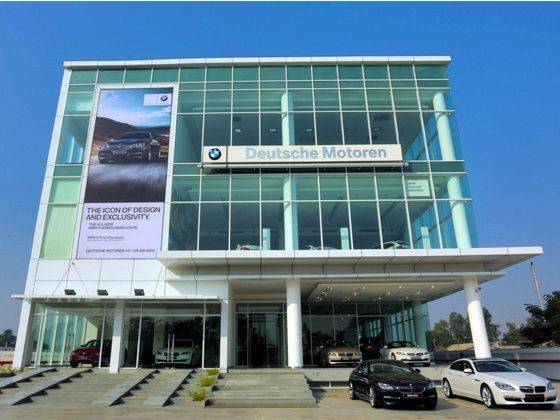 India's largest luxury car maker BMW has inaugurated its largest showroom, Deutsche Motoren, in Faridabad, Haryana. Spread over 1,30,000 sq ft, the new facility incorporates a 4S model that will take care of sales, service, spares and business systems. Based on the Reception at the Car (RATC) and Urban Street Display concept, the modern facility will ensure a world class pre and post sales experience for customers.
The showroom can display 13 cars while the workshop with 92 service bays, can service 350 cars a day, with a 75 person work force.
Philipp von Sahr, President, BMW Group India, said, "Five years ago, BMW changed the face of Indian luxury car segment with introduction of world class premium dealerships that presented an unparalleled experience to the premium clientele. Today, with the launch of Deutsche Motoren Faridabad, BMW India is proud to set yet another benchmark in luxury car retail in India. Due to its vast capacity and meticulous BMW processes, Deutsche Motoren Faridabad will offer supreme pre and post sales service to BMW customers."
To mark the occasion, BMW launched the refreshed X6 xDrive40d at a price of Rs 78.9 lakh, while the petrol powered X6 xDrive50i costs Rs 93.4 lakh (prices ex-showroom New Delhi), at the new facility.
"Deutsche Motoren's association with BMW India dates back to 2007. We believe that the foundation of this association is based on bringing extremely high standards in sales and service of premium automobiles to India. The launch of our new facility in Faridabad is a big step towards strengthening this foundation. We are very proud of the growth that we have experienced with BMW India and will always be committed to delivering the best to our premium clientele in every possible way," said Yadur Kapur, Managing Director, Deutsche Motoren.
Also read: Face-lifted BMW X6 Launched