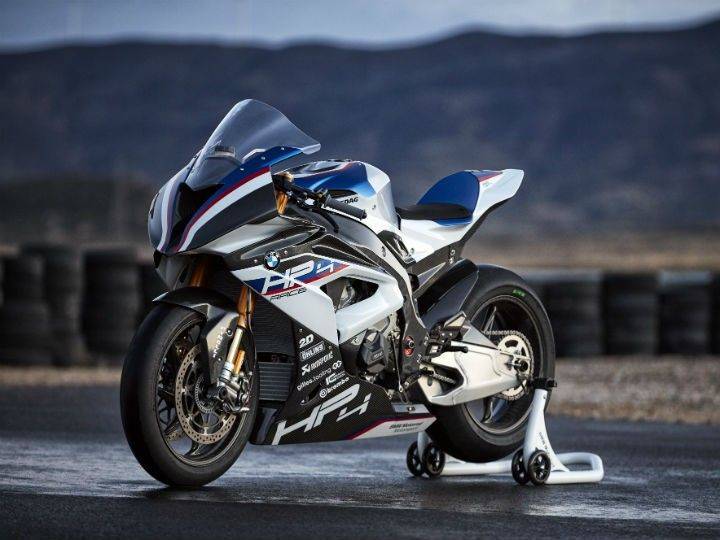 The HP4 Race is the lighter, meaner sibling of the already capable BMW S 1000 RR. In its latest iteration, BMW has left no stone unturned when it comes to extracting the maximum performance for the racetrack. For starters, HP4 Race gets a carbon-fibre monocoque main frame that weighs just 7.8kg! The wheels are also made out of carbon fibre, which results in approximately 30 percent reduction in weight when compared to light alloy forged wheels while retaining the rigidity.
When it comes to suspension and brakes, the HP4 Race is equipped with FGR 300 inverted forks and TTX 36 GP spring strut, both supplied by Ohlins. Identical suspension parts are used in Superbike World Championship (WSBK) and in MotoGP. The swingarm is also a WSBK-spec light alloy underslung unit made of milled and sheet metal parts. To ensure optimal braking performance at the racetrack, the bike comes with two Brembo GP4 PR monoblock brake calipers. The pistons are coated with titanuim and the calipers are made out of a singe piece aluminium with chemically nickel-plated surface. In conjunction with 6.75mm thick 320mm T-type racing steel brakes, the system ensures top-notch braking performance.
The HP4 Race employs a 999cc inline 4-cylinder pure-bred racing engine. The power output stands at 214.8PS at 13900rpm and a peak torque of 120Nm is achieved at 10000rpm. The maximum engine speed has been increased as compared to the engine of the S 1000 RR from 14200rpm to 14500rpm. With the aim of achieving the best possible performance, a 6-speed close-ratio racing gearbox is used with optimised transmission ratios and various secondary ratios (diverse pinions and chain sprockets included).
The bike features a plethora of advanced electronics which is weight-optimised for maximum performance. Even the battery is a lightweight 5Ah lithium ion unit. Information is displayed on the 2D dashboard with transferable data memory (2D logger).
Wide-ranging set-up options for different track layouts and road surface conditions are provided by Dynamic Traction Control controlled by ignition cut, Engine Brake and Wheelie Control. These can be programmed selectively for each gear at 15 levels according to rider preference, allowing optimum use of the numerous riding dynamics offered by the bike. Other electronic features are the Pit Lane Limiter for observing speed limits in the pit lane and Launch Control for perfect race starts.
The implementation of all these technologies in the HP4 Race have resulted in the bike tipping the scale at just 171kg with fuel! That makes it lighter than the factory bikes at WSBK and is only marginally heavier than MotoGP factory bikes. This thoroughbred track-only bike is limited to a production run of 750 units, each individually crafted by a small, highly specialised team, ensuring the highest level of quality.
Also read: 10 Motorcycles We'd Love To See In India