Dear Santa, Could We Get These Bikes?
Dec 25, 2018
Views : 6077
---
The boys have been mostly nice and not too naughty. So here's what each one of them is asking for their Christmas gift from Santa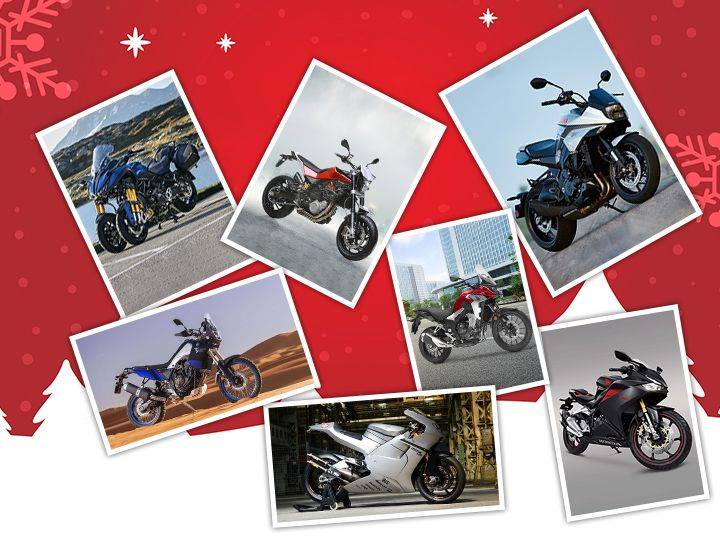 As toddlers, we were told to write a list of gifts that we wanted from Santa Claus. We have barely grown up since then and here's what the boys from the bikes team would like to have this Christmas. Will they find the keys to these bikes in their stockings?
2019 Honda CB500X - PD
Now on paper, the CB500X is far from a wild machine - about 49PS and 43Nm doesn't sound like much. But I've pretty much been in love with this motorcycle ever since I rode the previous gen one in Malaysia last year. Within a couple of kilometres of riding it, I had an "Uday-Chopra-from-Dhoom-when-he-sees-a-pretty-girl" moment - I began to imagine my future with the motorcycle. It's a bike that's much more than the sum of its parts, and it's got an absolutely lovable character. For 2019, it gets even better with some sweeter design touches and improved rough-road ability. Please Santa… uh… Honda… I really want this one!
Suter MMX 500 - Arun Nadar
If Santa asked me to pick a motorcycle as a gift, the first name on my mind will be Valentino Rossi's Nastro Azzurro Honda NSR500! However, taking reality and practicality into consideration, I will opt for the Suter MMX 500. Why a Suter? Well it's the closest a production bike can come to Vale's NSR500 and most importantly it's a 2-stroke!
If that wasn't enough, how does 195PS at 13,000rpm and 127kg (not too far from my own kerb weight) sound? Add carbon fibre, top-spec cycle parts and the Suter MMX 500 is a recipe for motorcycling nirvana! So please Santa let me have the MMX 500 in the Nastro Azzuro livery and light-up the festivities with some 2-stroke eargasm and a whiff of smoke.
Husqvarna Nuda - Ben
Yes, it is not in production anymore and yes, it was on sale in India for a very brief period of time via BMW Motorrad showrooms. It was during that time when I saw one and the salesman fired it up for me. Think Braap and then amplify it to 10.
No, I did not get to ride it but a few lucky journalists who rode it say it felt like an oversized supermoto on steroids that, at the slightest provocation, would have the rear tyre spin and front wheel go up at the same time. Sadly it was bought in here as a CBU and the outrageous asking price of 14 lakh found no takers. A deranged bike in politically correct times, I wish it was still on sale. Pls Santa, can we see a miracle this year.
Yamaha Tenere 700 - Jehan
I got bitten by the dirt bug this year. Like really really hard. So much so that I started riding my street-focused motorcycles in the off road riding style. And as soon as the Yamaha Tenere 700 broke cover at this year's EICMA, it is the bike that I wanted to go anywhere and everywhere. It has got Yamaha's Dakar winning genes in it and it has been tested to perfection by Dakar greats such as Adrien van Beveren and Stephane Peterhansel. Now I am no Peterhansel.
Heck, I am not even Kartikeya Singhee when it comes to riding off road. However, I feel the Tenere 700 has the right set of tools to help me get as close to the tail of the ed's Impulse. And as much as I think I would love riding this around, I know my girlfriend would not approve of this. But hey, I already got another Yammie for that, my YZF-R3.
Honda CBR250RR - Gaurav
Hey Santa, if you're listening, could I have one of them mean-looking CBR250RR's for Christmas? Pretty please? Now, I get that Honda's are usually dull to look at, but this one's different. The folks at Honda have gone absolutely berserk with the CBR250RR's design language, and it looks like Satan himself fiddled around with it. Either way, its aggressive and angular lines leave you speechless! The need for LED lighting feels almost habitual for Honda these days, and the quarter-litre sports bike gets it all, from the headlight, tail light to turn indicators.
And looks aren't all the bike has to offer, it's a hell of a performer too! The bike packs a 250cc, liquid-cooled, parallel-twin motor that'll have you grinning from ear-to-ear. If I had to throw numbers, how about 38.7PS which redlines at a staggering 12,500rpm and 23.3Nm of peak torque at 11,000rpm? Oh, and did I mention that this pocket rocket also gets three power modes - comfort (if you're lazy), sport (gives you a kick) and sport+ (piss your pants fast). Phew, the things I'd do to have this in my garage.
Yamaha Niken GT - Praveen
The Yamaha Niken GT is one of the most outrageous-looking motorcycles in the current global two-wheeler market. Honestly, I never thought a three-wheeler can look so incredibly cool until I came across the Niken. The design language is so futuristic that this one's a perfect candidate to be one of the baddies in the next Transformers movie! For 2019, Yamaha launched the Niken GT, which is essentially a touring-friendly version of the standard bike.
To see Yamaha's Leaning Multi-Wheel technology function on the Niken is truly a sight to behold. Yamaha says this tech considerably increases the grip while cornering and braking, all the while maintaining natural steering feel. I trust the Japanese on this one, though. If Yamaha launches this motorcycle in India, the amount of eyeballs it would grab will put a supercar to shame!
Suzuki Katana - Niraj
Neither am I as fast as my colleagues nor do I have the skills to try my luck at off-roading. All I want to do is hit the road and look good while doing it. And what better motorcycle to do this on than the newly (re)launched Suzuki Katana. Yes, no points for guessing, I am a sucker for retro-styled motorcycle. But I also don't want to compromise on practicality.
Thankfully, the Suzuki Katana fits my requirement like a glove. Not only is it designed to invoke nostalgia points from every angle (I mean just look at those square headlamps!) but also comes with all the features you've come to expect from a modern motorcycle like three-mode traction control system, dual-channel ABS and more. And at the heart of it sits a long-stroke version of the 2005-2008 GSX-R1000-derived 999cc inline-four, liquid-cooled engine, which as cheesy as it sounds, is enough to rev any biker's heart! So, Santa you listening?
Add Your Comments