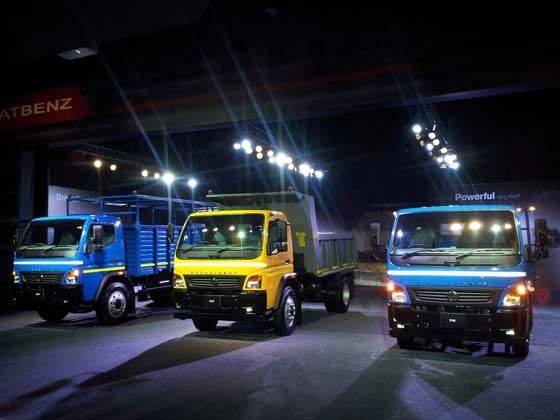 "High Fuel Efficiency", "Cabin Comfort" and very importantly "Cabin Safety" are the operative words marking the launch of the highly anticipated range of BharatBenz light-duty trucks, which will now be commercially available across their India dealerships.
The launch of the three light-duty trucks – 914, 1214 for the haulage segment and 1217 for the construction segment is part of a week-long celebration by the Indian subsidiary of Daimler's truck manufacturing division, wherein over 1,200 customers have been invited to get themselves acquainted with the full potential and might of these vehicles.
Speaking on the occasion of the launch, Georg Weiberg, Head - Product Engineering, Damiler Trucks, Germany, said "It is an obligation for us and our brand BharatBenz to ensure that customers will be happy with these trucks and our Heavy-duty trucks. Our focus was to create a truck with superior performance, efficiency and the best quality but at a very competitive price. To achieve this, we involved our German/Japanese engineers for their technology, experience and Indian engineers for their local expertise and ability to create cost conscious solutions."
Based on the FUSO Fighter/ Canter platform the new Rigid and Tipper models feature a 4D34i four-cylinder CRDi (Common-rail Direct Injection) engine with 140PS and 170PS power on tap.
Considering the current day fluctuating fuel price scenario, the proven fuel efficiency of these light-duty trucks would offer a major advantage to owners, offering efficiency that is a minimum of 10% better in comparison to existing products in the market.
Daimler's financial arm, Daimler Financial Services will offer BharatBenz customers a helping hand in financing these vehicles. BharatBenz dealerships across the country would also provide tailor-made financial services / service packages to interested customers to encourage investment.
Prices for the new model-line up are listed below
| | | |
| --- | --- | --- |
| Model | Min. Price in INR (Cab & Chassis) | Max. Price in INR (Fully Built) |
| 9 tonne Rigid (914) | 1,015,010 | 1,066,366 |
| 12 tonne Rigid (1214) | 1,111,644 | 1,162,090 |
| 12 tonne Tipper (1217) | 1,175,057 | 1,358,759 |
*Prices are ex-showroom Delhi