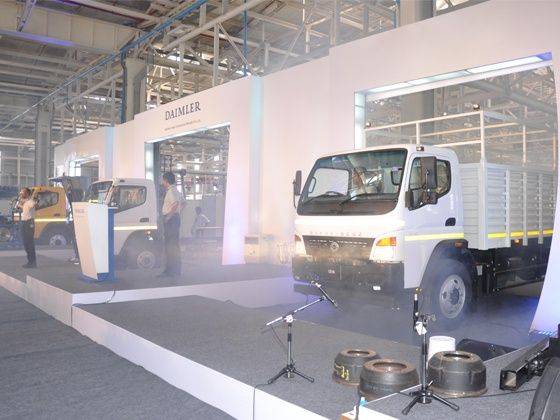 Daimler India Commercial Vehicles (DICV) has kicked off production of Light Duty trucks (LDT) under its India specific BharatBenz truck brand. The BharatBenz range of Light Duty trucks are based on the Fuso Canter LDT platform that has been highly successful across Asia, with a well established presence in India by its association with other brands.
The BharatBenz range of LDT trucks are slotted under the 9-tonne Rigid, 12-tonne Rigid and 12-tonne Construction segments and will be manufactured out of the company's Oragadam plant near Chennai, in Tamil Nadu. BharatBenz commenced production of its Heavy Duty trucks (HDT) at the plant earlier in 2012,.
BharatBenz has carried out extensive testing of its LDT range of trucks in extreme Indian conditions to provide reliable and fuel efficient products to the Indian transport sector, to bring down running costs.
DICV's state-of the-art Oragadam manufacturing facility was inaugurated in April 2012 and has a production capacity of 36,000 units of HDT and LDT together. The plant manufactures critical components like engines, axles and suspensions. This has helped BharatBenz achieve 85 per cent localisation of products.
Under the first phase of operations, BharatBenz trucks will be sold and serviced across 17 dealerships in the country, and by the end of 2012 the network will be spread to over 42 locations. The company plans to expand the number of dealerships to 108 by 2013.
Marc Llistosella, Managing Director & CEO, Daimler India Commercial Vehicles, commented, "We are well on track with our growth strategies and will have a good product mix for the customers. With fuel prices soaring, customers will want trucks that are more fuel efficient, reliable and robust. BharatBenz LDT range will offer quicker turnaround time and the lowest total cost of ownership. In the coming months, we will strategically release our products in the market that will include LDT and HDT range."
Also read: BharatBenz unleashes its Light & Heavy Duty Truck range for India