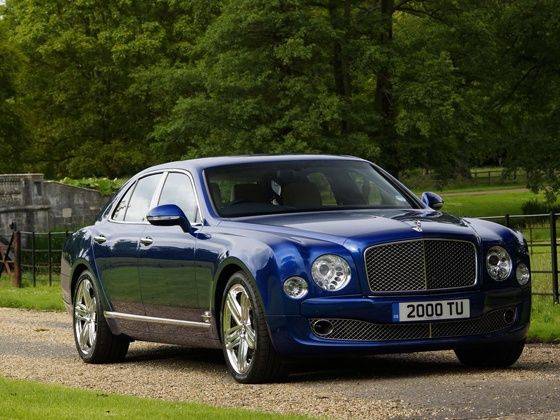 At the upcoming 2013 Geneva Motor Show Bentley will be introducing a range of new features to further enhance the comfort and style of the Mulsanne uber luxury limousine.
The new comfort specification adds new entertainment features, privacy features, plush and stylish features as well as new comfort features to take the luxury quotient of the Bentley Mulsanne up a notch.
The new comfort features includes super soft headrests that extended lower than standard headrests to ensure maximum comfort for a greater range of passenger statures and are designed to fold neatly without creasing, new foot rests for rear passengers fold under the front seats when not in use, duck down filled loose cushions enhance rear seat comfort, there are new storage spaces in the rear door arm rests that can store the new Bluetooth headsets and more.
The rear doors now get privacy curtains (finished in black or ivory) that can be operated via the window switches by rear passengers and the driver to enhance in cabin privacy for rear seat passengers.
The Mulsanne also gets a new entertainment system with twin, eight inch LCD headrest screens that are hooked to a 20 GB hard drive and DVD player, exquisite sound quality comes from a 'Naim for Bentley' premium audio system, rear passengers get two sets of Bluetooth headphones and a remote control.
Universal Mobile Telecommunications System (UMTS) phone module and SIM card reader enable on-the-go Wi-Fi connectivity for up to eight pairable devices, the system has a dedicated exterior antenna for unhindered connectivity. There is also a new picnic table featuring an adjustable screen angle with an anti-trap sensor to protect fingers. It can accommodate an iPad and a key board.
Bentley will also offer a new luggage range with the Mulsanne consisting of six pieces in total (two large cases, two small cases and two foldable garment bags). The shape of the luggage is inspired by the inner rear door panel. The frame has been designed to neatly guide the luggage in position into the boot while also protecting the handle. The luggage pieces like the rest of the car are hand made to customer specification and match the interior leather specification of the car.
The Bentley Mulsanne gets three new colour choices, namely, Dark Cashmere, Portofino and Damson. Dark Cashmere is a sophisticated warm grey, while Portofino takes a new slant on Pale Sapphire, a highly successful Bentley colour and Damson is a rich, opulent colour with a velvet quality, deep tones and the subtle sparkle of rare purple diamonds states Bentley.
Commenting on the new range of features for the Mulsanne, Member of the Board for Sales, Marketing and Aftersales Kevin Rose, said, "The new features of the Mulsanne blend striking design with the latest in technology integration, enabling our pinnacle model to offer the grandest of touring experiences. The Mulsanne presents unrivalled luxury and effortless performance, and these enhancements will help broaden the appeal of the Mulsanne in new and emerging markets."
Also read: Bentley Mulsanne Diamond Jubilee Edition