Meet The Fastest SUV In The World: The Bentley Bentayga Speed
Aug 13, 2020
Views : 1562
---
Its upgraded 6.0-litre W12 twin-turbo engine produces 635PS and 900Nm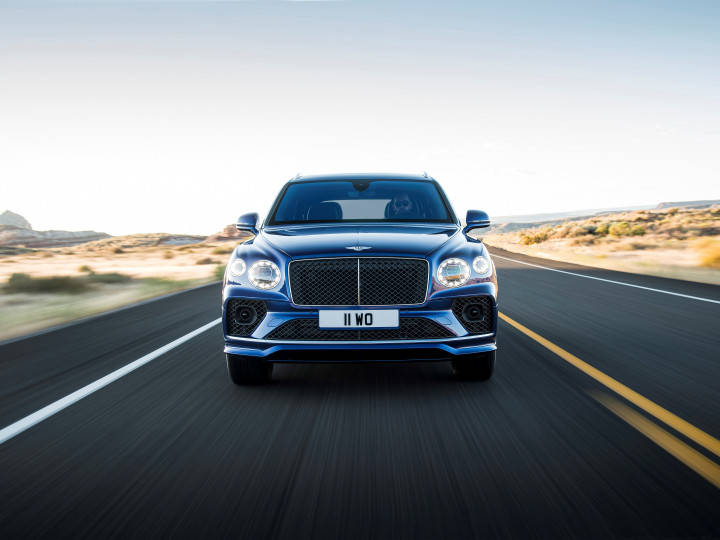 It has a top speed of 306 kmph, making it the fastest SUV in the world.

The range-topping Speed variant will come with a refreshed exterior, additional body kit, and optional Alcantara upholstery.

It also gets a bigger 10.9-inch touchscreen infotainment system with smartphone connectivity.
We're all familiar with the Bentayga, the performance-integrated luxury SUV by Bentley which was pretty much close to perfect. The British carmaker then went ahead and did something extraordinary: made the Bentayga even better. The Speed variant is a better looking, more powerful range-topping version of the SUV, justifying its moniker with the tag of being the fastest SUV in the world.

Even though the V8 Bentayga is now easily recognisable, the Speed sets itself apart in a few ways. The restyled exterior comes with tinted headlights and tail lights, a sporty body kit, dark elements around the body, 22-inch wheels, and a larger spoiler. An additional 'Black Specification' package offers gloss black and carbon-fibre finishes, instead of the chrome elements.

Inside, the Speed variant gets a cabin that's largely similar to the Bentayga but with the option of Alcantara upholstery, bright contrasting accents, and Speed badging on the seats. It also features a larger 10.9-inch touchscreen infotainment system with smartphone connectivity and a fully digital instrument panel similar to the Continental GT and Flying Spur.

Let's talk about the aspect where the Speed moniker really shines. This variant of the Bentayga is powered by a 6.0-litre W12 twin-turbo engine, a powerhouse producing 635PS and 900Nm. Fun fact: all this power leads to a top speed of 306 kmph, making the Bentayga Speed the fastest SUV in the world. It can go from 0-100 kmph in just 3.9 seconds!

In case you're wondering what the eco-friendly nerds have to say about the W12 aspect of the engine, let's just say it is smart enough to shut them up. Bentley claims most of the time only six cylinders are in operation, alternating between each other to ensure none of them cools down enough to reduce efficiency. Another smart offering is the 48V electronic active roll-control system which keeps the car flat while cornering.

A powerful engine like this could restrict the market for the Bentayga Speed by a bit, but there is a demand for it in markets such as the Americas, Middle East, and Asia Pacific regions. There is no official word on whether the fastest SUV in the world will make it to Indian shores, although the facelifted Bentayga in its relatively ordinary guise is on its way here. It locks horns with the Rolls-Royce Cullinan among other luxury SUVs.
Add Your Comments