Bentayga Becomes The First Diesel-Powered Bentley
by Aakash
Sep 21, 2016
Views : 7527
---
The SUV has a 4.0-litre V8 diesel engine that has two turbos and an electric supercharger, and will be launched in 2017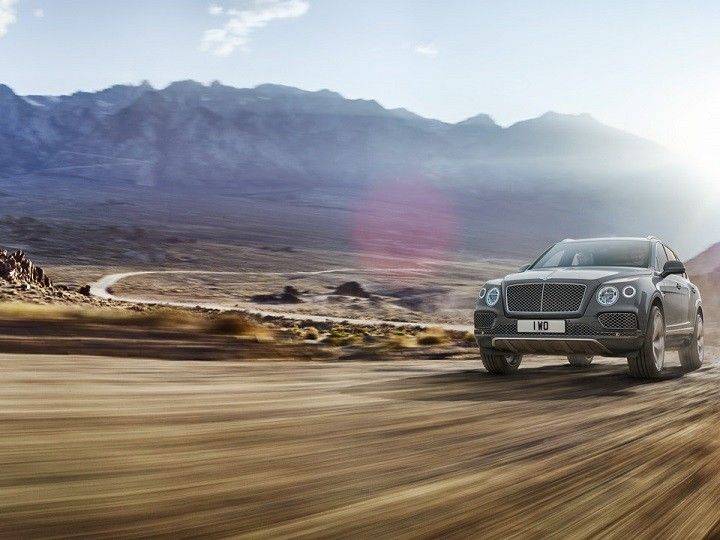 Can you imagine a Bentley with anything but a petrol engine? Considering that it competes with Rolls-Royce, shouldn't it provide similar levels of luxury and refinement. Electricity is not a source Bentley is keen on pushing. This leaves us with diesel power. But a Bentley with a diesel engine? Sounds like blasphemy, but is true. Yes, the Bentayga, the first SUV from Bentley, will soon be available with a diesel engine. And not just any diesel engine, but an eight-cylinder one with two banks of cylinders arranged in a V shape.
The Bentayga will sport a V8 engine powered by diesel and will have a triple-charged engine. Bentley has co-developed this engine with Audi and it has two turbochargers paired with a supercharger driven by electricity. The two turbochargers are twin-scroll type and all three help this SUV's 4.0-litre V8 engine put down 435PS power and tire-shredding 900Nm torque. While the current 6.0-litre twin-turbo W12 petrol engine on Bentayga has the same power and torque output, the diesel makes its torque available from 1,000-3,250 rpm. This helps the diesel-powered Bentayga to launch hard from 0 to 100km/h in 4.8 seconds and Bentley claims it can go on to achieve a top speed of 269kmph.
The triple-charged engine on Bentley Bentayga also does duties on the Audi SQ7. The electric supercharger primes the first turbocharger for mid-range thrust. The second turbo kicks in at mid-high rev range while the electric supercharger lies dormant. The electric supercharger has its separate 48 volts electrical system to draw power from. Bentley claims the diesel engine will help the car deliver a fuel economy of 15.22kmpl, not that it would matter to potential buyers.
The diesel Bentayga can be identified by black radiator mesh, badges and 'twin quad' (two twin exhaust pipes merged into one on either side) tailpipes. As far-fetched as the idea seems, the diesel Bentayga will be launched early in 2017. There is no information on whether this engine variant will come to India too or not. Bentley assures the diesel engine will have no effect on refinement levels of the car. We will get to put that claim to the test when the car comes to India.
Recommended Variant :
Bentayga Standard