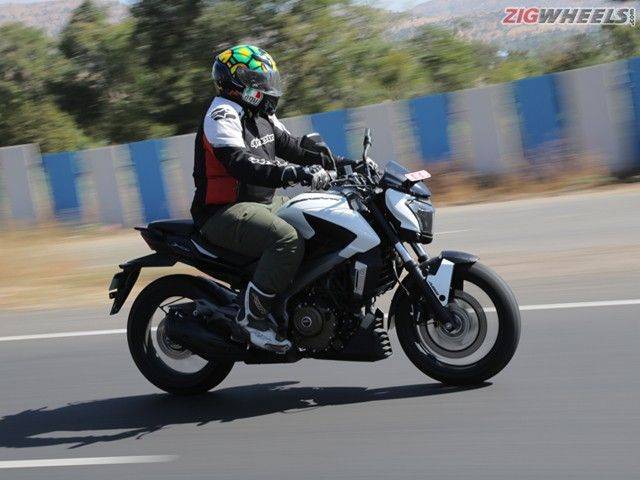 Positives:
1. Comfort:
Being a sports tourer, the Bajaj Dominar 400 is expected to munch miles with ease and it does so effortlessly. The footpegs are mildly rear-set and result in a slightly sporty riding posture. Wide handlebars add to the comfort factor. The large seat provides ample amount of space for the rider with the right amount of cushioning.
2. Performance:
The Dominar 400 is the most powerful Bajaj motorcycle yet and there was a lot riding on its performance. The bike offers good acceleration and has a meaty mid-range which is useful while overtaking on the highway. The powerband tapers off at the top end with the rev limiter cutting in at 9500rpm. It is effortless at cruising and one can sit at 120kmph in 6th gear all day long without the motor protesting.
3. ABS:
The Dominar 400 is also the second most affordable bike in the country to come with dual channel ABS. Braking performance is good and the ABS isn't too intrusive with good feedback through the levers.
4. Pillion Friendly:
While the rider has ample amount of space for the journey, pillion rider too, can ride in comfort on the Dominar 400. The stepped seat isn't too tall and has ample space for the pillion. The grab rails are comfortable to hold.
5. Instrument Console:
The digital console has a plethora of information like service indicator and two trip meters. It is bright enough to read in harsh sunlight with the speedometer and the tachometer being neatly laid out.
6. Agility:
Despite its 182kg kerb weight and long wheelbase, the Dominar 400 isn't a lazy handler. Direction changes are swift and one can weave through traffic without much effort. Weight has been distributed evenly and the bike felt easy to manoeuvre in crawling speeds.
Negatives:
1. Braking:
The front brake sheds speed swiftly but lacks progression. This means that one has to be gentle with the brake lever. Also there is considerable fork dive which feels unnerving during panic brake situations.
2. Seat Height:
The wide saddle increases the comfort factor on the highway but the rider has to spread his legs due to the base width. This means that shorter riders will find the saddle height to be on the higher side.
3. Vibrations:
The motor offers good performance but lacks refinement. The Dominar 400 doesn't feel as vibey as the Royal Enfield offerings but the handlebars and footpegs do have vibrations at high speeds. Also the NVH levels could have been better.
4. Instrument Console:
The console doesn't get a gear position indicator. The tachometer has been marked to 13,000rpm but the rev limiter cuts in at 9,500rpm. This gives a false sensation that the motor can be revved more while riding. Also the shift light isn't in the field of vision and should have been provided on top of the console.
Also Read: Bajaj Dominar 400 Review