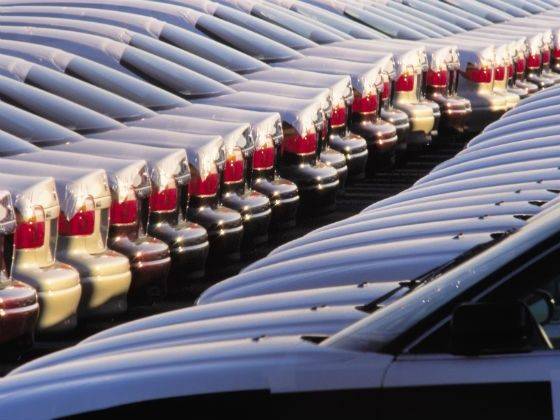 Heading towards its worst performance in a decade, car sales declined 12.5 per cent to 1,73,420 units in January, its third consecutive slide and the fifth in six months, as carmakers now pinned all their hopes on fresh sops in the upcoming budget.
The Society of Indian Automobile Manufacturers (SIAM), apex body of the Indian automakers that released the manufacturing data for the month of January on Monday, said that industry would miss all growth targets in the current fiscal year.
"The low sentiment couple with decelerating economy is likely to push Indian auto industry to its lowest growth since FY'2002-03, when car sales dipped 2.1 per cent," said Vishnu Mathur, director general, SIAM portraying a gloomy outlook for the industry.
SIAM had earlier issued a forecast of 0-1 per cent growth of cars in FY'13, which would be rectified after the upcoming budget by the end of this month.
The industry lobby group would soon come out with new projection based on current dwindling demand being witnessed in the domestic market originating from the slowing Indian economy.
In January all the major carmakers posted marginal rise or negative sales.
The market leader, Maruti Suzuki car sales remained flat at 88,557 units from 88,377 units in the same month last year.
While South Korean Hyundai Motor India had posted 1.45 per cent increase to 34,247 units as against 33,756 units last year.
The third in the league, Tata Motors' domestic sales slipped by a massive 61 per cent to a mere 11,192 units in January.
SIAM had already slashed its passenger car sales forecast for the third times in this fiscal from as high as 10-12 per cent in April to just 0-1 per cent last month, after analyzing the nine-month period ended December 2012.
"These are the toughest times for the Indian auto industry. We are pinning hopes on the upcoming budget, especially for the trucks and buses segment, which has declined by a massive 40 per cent in January," said SIAM's deputy director general Sugato Sen said.
Sen added that lower projection of economic growth and continuing high inflation has further dented customer sentiments and sales may decline further in coming months.
SIAM officials said that investment announced earlier in the auto sector will remain committed, though some re-scheduling cannot be ruled out keeping in view the current slowdown.
Analysts tracking the Indian automotive industry also aired similar sentiments.
"The next few months would be tough for the Indian automotive industry. Subdued demand and lack of incentive to buy new vehicles may prove challenging keeping the negative sentiment that will keep sales lower for the rest of the fiscal," said Deepesh Rathore, India managing director for IHS Automotive in New Delhi.
The demand cycle in the domestic market has also impacted other segments of the industry like trucks, buses and two-wheelers.
Also read: Cross-badging fails to rev up car sales